Chief UK Economist Weighs In On Remote Working Today
The COVID-19 pandemic has affected many UK companies in all industries, and the effectiveness of remote working has truly been put to the test. People's perceptions of remote working have now changed from a novelty to the norm, and as a result, many companies are increasingly needing remote IT support to monitor and support their teams effectively. IT support is essential for many business processes today, and reliable support is even more important for companies that will continue to operate with work-from-home setups.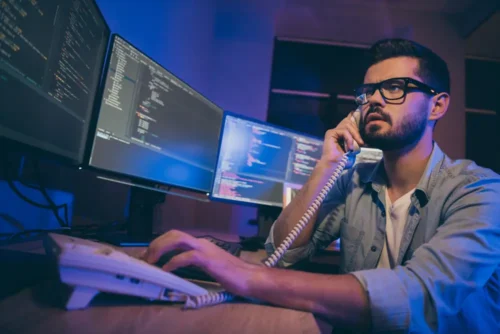 The world of work has always affected the way people live. In the past, the industrial revolution saw workers move into urban centres to find jobs. When cars became more readily available and affordable, people moved out to the suburbs.
Now, in the wake of the pandemic, Ian Steward, the Chief Economist of Deloitte in the UK, has offered his thoughts on how remote working will develop in the coming years. Deloitte specialises in auditing, consulting, providing advice, and tax services.
According to Steward, the past 18 months has offered many instructive lessons. The shift to large-scale remote working happened far faster than anyone anticipated. From 5 per cent of the UK workforce working at home pre-pandemic, that number rose to around 50 per cent in April 2020 at the peak of lockdowns and restrictions on movement. In July 2021, when restrictions began to relax, 19 per cent of workers remained at home while carrying out their duties and responsibilities.
Even though society and the way it operates has drastically changed in the past, though, that's not necessarily a good indicator of what lies ahead for businesses and their workers.
The Industrial Revolution and the shift to car usage, and a resulting move to the suburbs were not necessarily the same types of scenario that we faced last year. The lockdown left people without much choice. Businesses had to either close down entirely or move towards remote working. For many, this was no choice at all.
A survey from the Office for National Statistics shows that 85 per cent of those people who are still working from home want a hybrid model for the future: a mixture of working at home and at the office over the course of their working week. Other surveys have shown that people favour the option of only working two days a week in the office in future.
Although the pandemic has brought a host of negatives for individuals and businesses alike, it has still been a time in which we've seen some signs of improvement.
Computers and connectivity have benefited. Internet connectivity, hardware, and software have all continued to improve. And the many difficulties parents have faced when working from home and taking care of their children at the same time will continue to fade provided nurseries and schools stay open.
In the future, UK businesses may need to redesign and modify their offices to improve the way that meetings and other interactions with employees working from home take place. At the same time, though, spending time in the office can help reduce communication gaps, social isolation, and the monotony that remote workers tend to suffer from.
Systems and work processes will also need to be considered. How will employers deal with requests to work from home permanently, and how will they address differences in salaries for workers based in different locations? Alphabet, Facebook, and Twitter, for example, have announced that they will reduce pay for homeworkers and reduce relocation incentives, too.
Another necessary consideration will be the utilisation and cost of remote IT support. These workers are bound to encounter computer or network problems from time to time, as well as potentially posing greater security risks to companies' data. Funding and accessing appropriate remote IT services must, therefore, also be part of a business's considerations.
But perhaps the most important consideration will be that working from home is not best for everyone. For example, much of the employment in the UK is location-specific, like running hotels, waiting tables, operating machinery, or driving a bus. These are all jobs that cannot be done remotely for obvious reasons.
In February 2021, Goldman Sachs' CEO David Solomon said that remote working is not the 'new normal'; it's a situation caused by necessity that must be rectified as soon as possible. Jes Stanley, the CEO of Barclays, agreed with this statement, declaring that remote working was just a temporary fix and is far from sustainable over the longer term.
The real-world effect of the mass exodus from offices to home is still unknown. A whole host of surveys has been conducted, but the results show no coherent outcome. But one thing all these surveys seem to agree on is that businesses are much less enthusiastic about homeworking than their employees. While most workers are asking for increased flexibility, only 28 per cent of companies say that they welcome the idea of incorporating home working into their business model permanently.
The economy is a different story. Even with these changes in business models and the opposition to them, it looks likely that workers will not revert to the office-based 9-5 routine anytime soon. The ongoing pandemic means remote working is likely to be a feature for some time to come, if not for the long term, because many recent job descriptions will have included the option for applicants to work from home. On LinkedIn, job posts and job shares mentioning remote working have increased up to 18-fold.
But it will take time to see the results of the homeworking culture after the pandemic. Permanent changes to work structures and the effects on salary offers to employees is yet to be determined.
Working from home is likely only to be universally accepted if organisations and employers see that it is more effective and beneficial to their companies than before the pandemic.
Some sectors, such as tech and professional services, have enjoyed positive growth while employees have been hybrid working. The banking industry, however, is far more cautious about the benefits.
It seems that trial and error will play a huge role in determining whether people should work from home, return to office-based jobs or take a hybrid approach.
But one thing is for sure; more change is coming, and the country will learn a lot more along the way.
Expert and Professional Remote IT Support Company
There are many unanswered questions when it comes to remote working. As noted, while there have been many benefits that have accrued from it, there are also issues that need to be examined further down the road. What's important is that companies should continue to innovate and look for ways to ensure their employees are both happy and productive.
At Proxar IT Consulting, we can help by ensuring your employees are connected all the time with our professional IT support services in London and the UK whether they're  office-based, remote workers or a mixture of the two. You can also benefit from our advice and security measures to help prevent your businesses from security breaches and cyber-attacks. Call us today on +44 020 3515 5555 or email us at sales@proxar.co.uk to find out how we can help keep your systems running and your employees supported, no matter what your company's circumstances.