Microsoft SharePoint and OneDrive
Microsoft SharePoint is a workspace linked to your UK business allowing you to create and share content both internally and externally. A cloud-based storage, Microsoft SharePoint and Microsoft OneDrive are fantastic collaboration tools, offering multiple parties the opportunity to access and work on documents simultaneously in real time. 
What is Microsoft SharePoint?
As a business, you may find yourself wondering 'what are the benefits of SharePoint?'. SharePoint allows your employees to work on files securely together from anywhere at any time. It integrates seamlessly with business applications and Office 365 tools, especially Microsoft Teams, and can be used to create team 'spaces' to store information such as files or useful contacts. In fact, Microsoft SharePoint excels as a collaborative workspace and file storage to the point that many London businesses use it to host their intranet sites.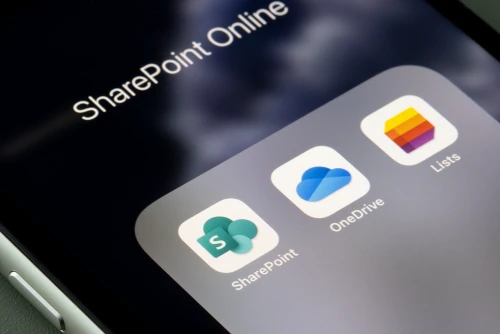 What is Microsoft OneDrive?
Microsoft OneDrive is a Cloud-based file and storage solution designed for providing users with a place to store personal files securely. With inbuilt features such as Known Folders enabling users to merge all existing Desktop, Document and Pictures into the users OneDrive account, any data which exists on the workstation is synchronised to the cloud. As a result, Microsoft OneDrive backups employees' data and files in the case of an emergency.
Microsoft SharePoint vs OneDrive
What are the differences between SharePoint and OneDrive? There's a lot of similarities, including:
SharePoint and OneDrive use the same underlying design and features
SharePoint and OneDrive both deliver cloud storage and synchronization services
The 'OneDrive Sync Client' is needed for synchronization to work should you choose to not work locally rather than via a web browser and is required for both SharePoint and OneDrive
Both require a valid Office 365 Licence
Sharing data is possible from SharePoint and OneDrive
However, to settle the debate of SharePoint v OneDrive, it's important to remember that OneDrive is essentially a single SharePoint document library located in a single site but is designed solely for that user acting as a secure location to store data. Meanwhile, SharePoint is a wider collaboration and cloud storage solution designed for whole business use, with the objective being multiple users are able to access permitted data stored within a location at the same time with convenience. Despite the similarities, they are both different products and should be treated as such.
If you are interested in starting to use SharePoint, OneDrive or both Proxar IT Consulting and our London based team of experts can help you configure, setup and deploy to your business. For more information please contact a member of our team.