Microsoft AutoPilot
A cloud-based deployment service, Microsoft Autopilot automates the setup and configuration of new devices, meaning they can be ready for your users without your IT department needing to physically see the device. This allows for:
Setup Consistency
Centralised management
Efficiency (reducing the time IT spend on device setups)
Improved user experience
By utilising the unique ID of workstations, it's possible to assign each device an Autopilot profile. These profiles can differ according to your needs; for example, by country, job role, or seniority level. Once activated, the device is then shipped directly to the end user, who simply turns it on and connects to the internet. Autopilot automatically configures the device with your business' chosen settings, applications, and policies, making it ready for use immediately.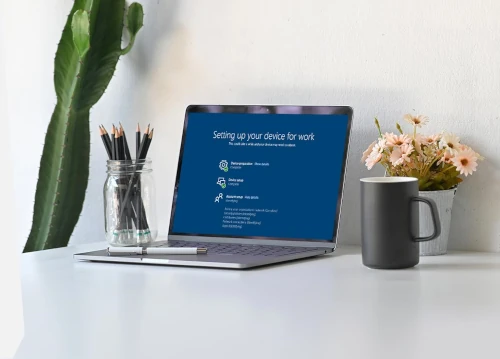 What can it do?
UK Businesses can select a range of pre-configurations to automatically apply, including computer hostname, user account type, language, region and keyboard. It's even possible to select how it will be joined to your domain: via Azure AD joined; Cloud-only without an on-premises Windows Server Active Directory; Hybrid Azure AD joined; or an on-premises Active Directory and registered with Azure Active Directory.
It is important to note that Microsoft Autopilot only deals with the workstation configuration. However, because having the device enrolled means it is ready to be used with Microsoft Intune where you can configure business policies, and security settings as well as deploying software.
Why does my business need Microsoft Autopilot?
First and foremost, Microsoft Autopilot can save the time and costs associated with traditional device deployment methods. Additionally, it can help to improve security by ensuring that devices are configured consistently and according to best practices. Finally, it can help to improve the user experience by reducing the time and effort required to get up and running on a new device.
Want to know more?
Here at Proxar IT Consulting, we have extensive experience working with Microsoft Autopilot, meaning we specialise in providing expert guidance and support throughout the entire deployment process. Our proven track record of delivering high-quality IT solutions for London area businesses (and other locations) of all sizes alongside the personalised service and support we offer to each client guarantees a smooth and efficient deployment.