IT Data Migration
Data is a key asset for any UK business, and making sure its protected is vital. When you're changing technologies or amending or removing existing infrastructures, it's likely that you'll be looking to perform a data migration to transfer your data to its new home. 
Given the increasing complexity of file formats, volume of data, new technologies and GDPR requirements, data migration is no mean feat. Having a trusted professional on hand to offer data migration services can be exceptionally useful. Here at Proxar IT Consulting, we offer support for all kinds of migrations, including file storage data, databases, and application data.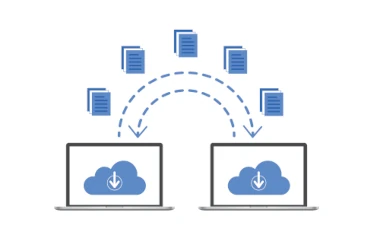 When would my business need to perform data migration?
You may need to perform a data migration when:
Upgrading to a new system or software application
Merging with or acquiring another company
Moving data to the cloud or a different hosting environment
Consolidating multiple databases into a single system
Decommissioning legacy systems
Changing database vendors or technologies
Expanding or restructuring the business
Resolving issues with data quality or accuracy
What data migration services does Proxar provide in the UK? 
File storage data migrations
Transferring data from one storage media to another is extremely common. This type of migration is often needed when upgrading hardware to increase storage, when changing technology from one solution to another (such as on-premises to cloud), or when archiving data. We offer file storage migration support to make this process as seamless as possible.
Database migrations
Many businesses have a requirement to have a database to aid with data processing operations. You will likely be using an application like Microsoft SQL Server, MySQL, SQL Express or other form of non-SQL app. Over time, vendors remove support, software becomes end of life, licensing requirements change, and hardware becomes old and outdated. All of this results in the need for a database migration. Luckily, Proxar IT Consulting is well-versed in performing these complex migrations, and is on hand to offer comprehensive data migration support to assist.
Application data migrations
In instances where bespoke software is unsupported by the vendor or compatibility issues arise, the process of moving an application program from one environment to another becomes complicated. Sometimes, the vendor can't even guarantee if applications will run on the latest operating systems due to testing not performed.
Learn more about our migration services
At Proxar IT Consulting, we're experienced in performing complicated data migrations for many London and UK clients, that effectively transport your data with minimal disruption to your business. Should you have a migration project which you need assistance with, please contact us and we will be happy to help.
If your migration is part of a wider project, please note that we also perform email, Office 365, and server migrations too. Please contact us to explore a customised solution.