Emails and Office Packages for New Businesses
One of the most important elements for your IT Setup for a new business in the UK, is the set of programs used for common productivity tasks such as sending and receiving Emails, working on documents, and creating spreadsheets. This can all be achieved with the emails and office packages.
Microsoft Exchange for new businesses
Microsoft's cloud-based platform, Microsoft Exchange, provides both emailing services and calendaring services for scheduling appointments or meetings with reminders and contact storage facilities. Its collaboration features include sharing mailboxes with ease, creating groups, managing other users calendars, and a generic business address book to search any user.
Emails can be accessed with ease from Microsoft Outlook on your desktop and laptop, the Outlook app or inbuilt mail client on your mobile phone, and even a simple web browser (known as webmail). Few businesses can survive without emails, meaning implementing a quick solution for emails for new business even more important.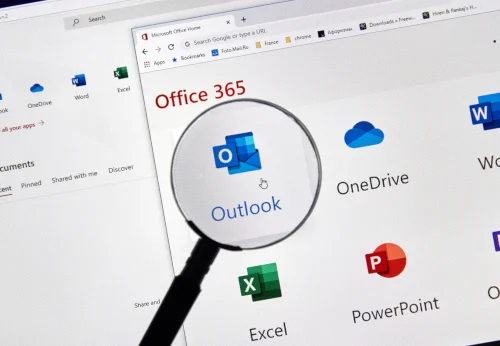 Microsoft Office 365 for new business
Microsoft Office provide a suite of applications ideal for your Emails and Office package. The yearly subscription incorporates all packages and can be paid for upfront or monthly, giving new businesses budgeting flexibility when it's needed the most. It should be noted that purchasing via a subscription based model entitles you to upgrades for new version releases at no additional cost.
With the full package readily available, Office 365 for new businesses is a natural choice.
How can Proxar help?
As standard to the IT Setup for New Business solution for businesses under 300 users, Proxar incorporate the Microsoft 365 Business Premium subscription which gives you:
Microsoft Access (PC Only)
Microsoft Excel
Microsoft Outlook
Microsoft PowerPoint
Microsoft Publisher (PC Only)
Microsoft Word
Microsoft Exchange
Microsoft OneDrive
Microsoft SharePoint
Microsoft Teams
Microsoft Intune
Azure Information Protection
As a London city registered Microsoft Partners, we confidently recommend Microsoft technologies including emails and office packages, to the majority of our clients. 
Want to explore our tailored IT Support Packages? Our silver support is designed for newly established businesses and can offer the support you need for your everyday IT issues and basic networking support.
Alternatively, get in contact with us today to get your emails for new business set up and running!