Office DR Plan
Launching a new business in the UK comes with enough headaches. When your business is in its early stages of growth, the last thing you want to face is an outage. But no matter your best laid plans, sometimes, disaster strikes. When they do, it's important that you have a complete Office DR Plan that you can turn to so that your business can resume operational activity as soon as possible. It should contain detailed instructions of what to do and how to do it for a variety of circumstances. Given the technical nature of many of these instructions, many companies prefer to contact a trusted IT provider to support in the creation of a Disaster Recovery Plan.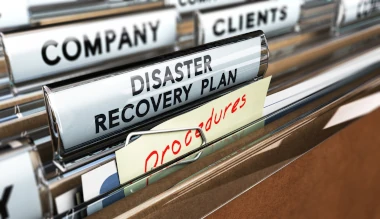 Why does my business need a disaster recovery plan?
Disaster recovery planning isn't just for large enterprises. All companies, no matter the size, benefit from a disaster recovery plan. Should your organisation experience any sort of failure, be it a natural disaster, cyber attack, power cut, or hardware failure, having these instructions close to hand provide clarity in a crisis and can:
Promote a quick recovery
Minimise downtime
Reduce costs
Prevent permanent data loss
Protect your business' reputation
How can Proxar IT help?
Proxar IT Consulting understand how essential it is for every London and UK company to have an Office DR Plan. Whether you're a new business starting out with just a single user or a well-established business with thousands of users and offices, it's impossible to avoid unplanned incidents entirely. 
At Proxar, our key aim is to help you recover after an incident as quickly and efficiently as possible. We help you to design and plan the steps needed to resume those mission critical services and help deliver business continuity planning.
Want to know more? Get in contact today!