Intune Consulting
Whether you're searching for a way to ensure your users are compliant within your business for security requirements, wanting to keep corporate data protected at all times, or just looking for a way to manage mobile devices and apps, Proxar IT Consulting is here to help! We provide Intune Consulting services in the UK designed to help you get the most out of Microsoft Intune for your business.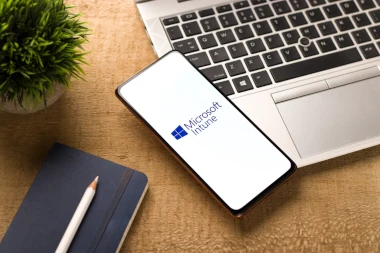 What does Microsoft Intune do?
A cloud-based service, Microsoft Intune allows organisations to manage and secure their devices, applications, and data from a single console. It provides a range of mobile device management (MDM) and mobile application management (MAM) capabilities and works across a wide range of devices, including Windows PCs, Macs, iOS, Android, and other mobile devices.
Intune provides numerous benefits for businesses, offering:
Device management
Application management
Conditional access policies
Mobile content management
Mobile threat defence
Enforcement of security policies, e.g. data encryption or compliance
Deployment applications
Update management
Remote data wiping
Device tracking
App distribution
Integration with other Microsoft cloud services
If you'd like to learn more about what Intune can offer, take a look at our Endpoint management with Intune service.
Harnessing the Power of Microsoft Intune with Proxar IT Consulting
In the era of digital transformation, businesses are constantly seeking solutions to manage and secure their devices and data. This is where Microsoft Intune steps in, offering a comprehensive cloud-based service for device and application management. And when it comes to microsoft intune consulting services, Proxar IT Consulting is the name businesses trust.
Why Choose Microsoft Intune?
Microsoft Intune is not just another management tool; it's a game-changer. It allows businesses to have a centralized console from which they can manage a myriad of devices, be it Windows PCs, Macs, or mobile devices. But the real value lies in its advanced features:
Device Management: Ensure that all devices adhere to the company's security standards and policies.
Application Management: Control how applications are accessed and used within the organization.
Conditional Access Policies: Set rules and conditions for accessing company data.
Mobile Content Management: Safeguard sensitive business data across mobile devices.
Integration with Microsoft Cloud Services: Seamlessly integrate with other Microsoft cloud solutions for a holistic approach to business management.
The Essentials of Microsoft Intune Consulting Services
While Microsoft Intune is packed with features, harnessing its full potential requires expertise. This is where Proxar IT Consulting's microsoft intune consulting services come into play. Our team of experts, stationed in London, have hands-on experience with Intune's inbuilt technology. They are well-versed with its setup, features, and functionalities. Whether you have queries or need advice on best practices, our consultants are here to guide you every step of the way.
Strategic Advice and Solutions
Every business is unique, and so are its requirements. Our consultants understand this. They offer strategic advice tailored to your business needs, ensuring that you get the most out of Intune. From device management strategies to application distribution patterns, we cover it all.
Licensing and Integration
Beyond consultancy, Proxar IT Consulting also offers Licensing procurement services. As Microsoft CSPs (Cloud Solution Providers), we can assist businesses in acquiring the necessary licenses for Microsoft Intune, ensuring a smooth and cost-effective transition.
Our Intune Consultants
Our experienced consultants stationed in London work with Intune inbuilt technology on a daily basis, and therefore are very familiar with the setup, features and how it works. This first-hand experience is what makes our Microsoft Intune Consultancy services so special: we have the expertise to answer your questions and advise on best practices based on your business requirements.
With our strategic advice, high attention to detail, management and knowledge, Proxar IT Consulting are sure to help your business improve its security and really get the most out of Intune. You may also be able to benefit from our Licensing procurement services, as Proxar IT Consulting are Microsoft CSPs (Cloud Solution Providers).
For more information on our Intune Consulting Services, please contact us and we will be happy to assist.