Benefits of Cloud Solutions
Cloud computing has transformed the way a modern UK business operates. Leveraging cloud computing technology has allowed organisations to adapt and enhance the way  users share and access data and perform daily tasks. In recent years, cloud solutions have excelled to boast a range of benefits, including:
Increased Scalability
Cloud-based infrastructures such as Infrastructure as a Service (IaaS) provide the ability to provision computing services on demand. Here at Proxar IT Consulting, we can add or remove storage, computing power, or any other resource at ease based on your business' requirements, without needing to purchase additional hardware. This ability to increase or decrease resources as necessary provides cost savings straight from the outset.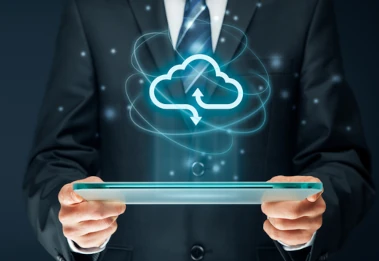 Enhanced Security
Cloud solutions offer IT support companies advanced security features such as data encryption, network protection, and identity management. IT support companies can ensure their clients' data is secure, preventing unauthorised access, data breaches, and other cyber threats. This added layer of security helps IT support companies gain clients' trust, and it also frees up their resources to focus on other aspects of their services.
Reduced Costs
Cloud Solutions remove the need to invest in expensive hardware and software while taking care of the maintenance, updates, and security of the infrastructure. In doing so, it helps businesses reduce operational costs.
Increased Collaboration
Cloud solutions enable seamless collaboration both internally and with third-parties. The ability for multiple people to access and share the same information, resources, and data from any location in real time results in greater productivity, faster resolution of issues, and better service delivery.
Disaster Recovery and business continuity
Cloud solutions provide an added layer of disaster recovery. Faced with an unexpected issue such as failed hardware, power and internet outages, or even a natural disaster, users can continue working, while cloud technology quickly restores data and applications using cloud-based backup and recovery solutions.
To summarise, cloud solutions offer a host of benefits. From increased scalability and enhanced security to lower costs and disaster recovery, cloud solutions can help businesses continue to stay competitive, expand their offerings, and provide their clients with the best services possible.
To learn more about how we can support cloud solutions within your London business, click here.