Proxar IT Consulting provides high-performance IT support focused on network design, management and migration. Whether you run a small business or a well-established enterprise, Proxar has the expertise to deliver the right solutions for the job.
Every company needs IT support, regardless of its size or the industry it works in. Here are some of the best reasons for hiring expert IT solutions from the right provider:
Get the right cost-effective technological solutions
Expert advice is always the best advice to take, especially when it comes to the kind of technology you'll be using for your business. This is not an area where you can afford to take shortcuts or opt for cheap, low-quality solutions. Instead, you need cost-effective and efficient technological solutions that can increase productivity and help you get closer to your goals while ensuring that your business is protected.
With expert IT support services, you can access sound, reliable, expert advice on the latest technology and innovations that could improve your company's growth.
Increase and improve security
No matter what kind of business you run, it is your responsibility not only to protect your own data but that of your customers as well. Today, that has become a much more difficult job because of the increasing number of risks and threats, especially online.
With managed IT support services, you can make sure that you're levelling up with your competitors in terms of technology and efficiency while also increasing the protection of your systems and the data you handle.
Stay ahead of the competition
There is no better way to improve your standing against your competitors than to continue innovating and providing unique services that improve your customers' overall experience.
Whether it's about providing new platforms that improve the way you deliver to meet your customers' needs to finding ways to make your internal processes seamless, a top-notch IT company can help you find the technology you need. This helps you stay ahead of the game, especially once your target market starts recognising you for the impressive results you are delivering.
Solve tech issues before they get worse
The longer a problem persists, the more costly it is and the harder it will be to fix. Especially when it comes to technology, you need to have the right fix in place as soon as possible, and certainly before things get worse.
If you have a support team ready to handle these problems anytime, you are saved from the headache of dealing with a bigger problem. Tech issues can be resolved as soon as they become apparent, so it will be business as usual for you and the rest of your team in the least time possible.
Use your time doing what you do best
Running a business is already hard enough, with most owners and managers having to act in various roles and oversee a number of people and processes. The last thing you want is to add IT to that long list of things to worry about.
With the help of a trusted IT support provider like Proxar IT Consulting, you can let the experts handle all your tech concerns while you focus on the more important aspects of your business that only you can manage.
Get unique solutions specific to your needs
The kind of IT solutions you need depends on your specific processes, systems, and goals. IT is never a one-size-fits-all industry. That's why you need a professional IT provider who can adequately assess your needs and goals and recommend ways to make it all happen.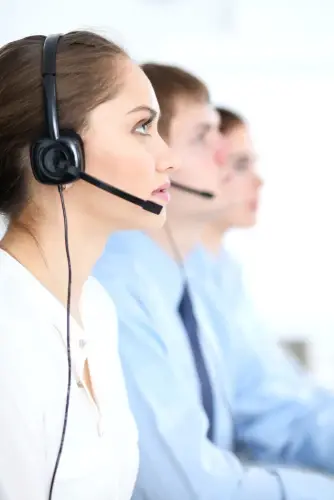 What should you look for in an IT support provider?
Now that you've seen how critical IT support services can be for your business, you will understand the importance of choosing the right provider. Here are a few aspects to check before signing up with any IT service.
Technology and systems used
Not all IT systems will fit your specific needs; and not all IT providers will have the kind of technology that would work for your business either.
When you are choosing the company you want to work with, always establish what kind of solutions they'll be able to provide for you. Are they up to date? Are these solutions applicable to the field of work and the industry you are in?
Amount of experience
No matter what kind of training an IT professional has, nothing beats the kind of knowledge that comes with experience. Always choose a provider whose team is made up of individuals who know what they're doing because of the length of time they've been doing it.
It's even better if you find a provider that has extensive experience in your specific industry. This means that they will already have seen almost every potential issue you may encounter and have experience in solving it.
Reasonable costs
Technology doesn't need to be inherently expensive. The right IT company will be able to assess your needs and tailor their services to provide a perfectly packaged set of solutions without always implying you need the most expensive option.
However, nor should you opt for the cheapest solutions, which might only result in you having to spend more in the long run, especially if your systems quickly become outdated or break down at every turn. Beware of companies that offer prices that look too good to be true as well.
Proactively offers solutions
In the world of technology, being proactive is always better than being reactive. A company that waits for a problem to arise before acting could cost you a great deal. When you do your research, look for a company that will proactively offer solutions to prevent problems from happening.
Open communication
IT emergencies sometimes happen without warning. That means you should be looking for IT support that is available 24/7. They must be easy to contact and quick to respond. Ensure you are offered multiple ways of reaching out to them and ask about response times under your contract. Otherwise, you could find yourself in the midst of deep trouble without any assistance available.
Flexible solutions
From time to time, it's reasonable to expect your IT provider to visit your place of business. At other times, remote assistance will work. A truly capable IT team will be able to adjust depending on your specific needs without wasting valuable time and resources.
Call Proxar IT Consulting on +44 (0) 203 515 5555 and let us know what kind of IT support and services you need.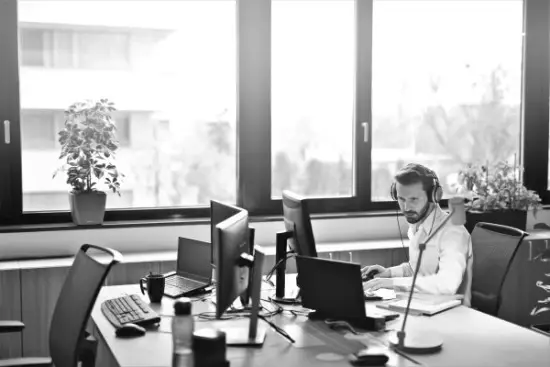 FREQUENTLY ASKED QUESTIONS
What does an IT support company do?
A provider of IT support in the UK can help ensure your office IT systems run continuously smoothly with little to no downtime. The right team can handle almost any IT-related aspect, such as fixing bugs, backing up data, overseeing security, managing IT infrastructure, and more.
What is meant by IT support?
IT support is the help you get from computing experts for your technical, hardware and software needs. This can involve dealing with a range of IT queries, from addressing bugs in the system to managing data, handling security and ensuring the efficient running of servers. Almost all businesses have IT requirements nowadays, so IT support solutions are usually considered essential.
What skills and qualifications should your IT support have?
When hiring an IT support company, it's important to ensure their team is fully qualified to solve all your tech-related problems. If you're planning on contracting with such a company, make sure that their staff are competent and experienced in fields such as computer science, computing, and engineering.
What should I look for in an IT support company?
Below are just a few of the many factors to be considered when hiring a remote IT support company for your business:
Clear response times
Data security expertise
Proactive management
Certifications, on-going training, and experience
No long-term contracts
Reasonable service costs
What are the different types of IT services?
Here is a list of some of the most in-demand services that an IT support company can offer your business:
Software and hardware support
Network infrastructure
Cloud computing
Mobile device management
Cyber security solutions
Remote working
IT project management
IT consulting services
What is level 1 IT support?
Tier 1 or level 1 managed IT support refers to the initial support provided to customers. Here, an IT professional will work to diagnose issues in order and identify any underlying problems. Tier 1 support may cover issues with desktop and server hardware, applications software, operating systems, local network support, and so forth.
What are the benefits of IT support?
When you hire an IT support company, you will enjoy a wide range of benefits. Some of these may include staff training, upskilling, remote monitoring and management of IT systems, and rapid response to issues and errors. In addition, you can ask for online, telephone, and email support. Fast and efficient response times will reduce downtime and revenue loss.
Why is IT support so important?
All businesses, whatever the size, require reliable and effective IT support. With good IT support, your business will be secured and stay competitive, and you can minimise the serious expenses that can arise from tech issues. Moreover, companies have more flexibility when they outsource services to IT support companies rather than attempting to manage systems in-house.
What is managed IT support?
Managed IT support refers to the outsourcing of IT services to a third-party provider, often referred to as the "Managed Service Provider" or MSP. These outsourced operations may be as basic as keeping IT equipment and other services running smoothly, all the way up to complete IT team outsourcing.
What are the benefits of managed IT services?
With managed business IT support services, you will experience the following benefits:
Data compliance support
Quick response to issues
Expertise
Avoidance of sunk and operational costs
One point of contact to vendors
Issue fixing and monitoring
Predictable and scalable spending
The Roles And Responsibilities Of An IT Support Person
Below are some roles and responsibilities of an IT assistance company:
Consistently monitoring and running inspections on your computer systems and networks
Offering support internally your employees
Providing external customers with support
Testing out and evaluating any new technology that may be useful
Fixing any software or hardware problems
Making system updates to ensure all software is up to date
Things To Do When Switching IT Support Companies
Are you planning on switching to a new IT expert? We recommend doing the following:
Keep control of your business IT support and services. See to it that when you hire an IT support company, you won't let them run your system fully from the get-go. You should still run your own regular backups of data.
Learn from your IT support experience. Make sure that you consider your previous experiences when hiring a new IT support company. The last thing you want is to make the same mistakes as before.
Use your IT documentation. Have complete documentation ready when making a switch. It's important that the new support company has access to your support log to be able to provide IT services for your network diagrams, usernames, passwords, and so forth.
Reasons Why Every Successful Business Needs IT Support Services
Here are some of the reasons why your business should have an IT consultant on standby:
Deep assessment of your business processes. If you want your business to thrive, then you will need the help of an IT support company. They will guarantee efficient data collection, analysis, and breakdown and help you derive actionable insights.
Embrace new technology with ease. Almost every day, new applications are entering the market. In order for your business to keep up with trends, you need a forward-thinking IT support company.
Enjoy better performance through 24/7 network monitoring. A competent IT support company will offer network performance monitoring around the clock. This guarantees fast repairs and replacement if things go wrong.
IT Support Services: Why Should You Acquire One
Hiring an IT specialist offers numerous benefits regardless of the kind of business you are running. One of the main advantages is an increased return on investment. With expert IT services consistently maintaining your systems, fixing errors and backing up data, you won't experience unexpected costs of repair or replacement in the future. The money saved can be invested in other, more important aspects of your business.
For more information, feel free to talk to one of our IT service staff. Just call us to get started today.