IT Support
Proxar IT Consulting provide excellent high-performance IT support in the UK, driven with a real key focus on our customer service which we provide. Our combined knowledge, experience and proactiveness makes us a perfect IT Support choice for any business.
Running a business is already hard enough. The last thing you want is to add IT to that long list of things to worry about. With the help of a UK trusted IT support provider like Proxar IT Consulting, you can let the experts handle all your tech concerns while you focus on your business.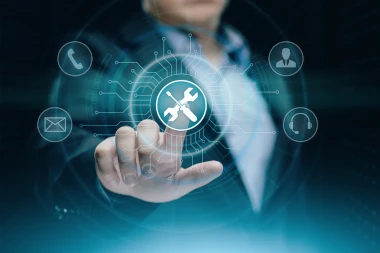 EVERY COMPANY NEEDS IT SUPPORT, REGARDLESS OF ITS SIZE OR THE INDUSTRY IT WORKS IN. HERE ARE SOME OF THE BEST REASONS FOR HIRING EXPERT IT SOLUTIONS FROM THE RIGHT PROVIDER:
Call Proxar IT Consulting on +44 (0) 203 515 5555 and let us know what kind of IT support and services you need.
IT SUPPORT FOR SMB
Expert advice is always the best advice to take, especially when it comes to the kind of technologies you'll be using for your business. Our team of Business Support Engineers based in London but working all over the UK, work closely with SMBs (Small and medium-sized businesses) providing the Support services to Businesses just like yours. We don't just provide User and Desktop Support, we offer the full spectrum of services which can include Networking, Server Support, monitoring all the way through to managing your IT if needed. We understand that not all companies have an Internal IT department, this is where Proxar IT Consulting comes into a league of its own.
IT SUPPORT FOR ENTERPRISE
Similar to the IT Support services which an SMB would expect, Proxar IT Consulting's upscaled IT Support for Enterprise Businesses caters for those businesses which have more than 250 employees. Our team are ready to support your whole infrastructure. As an enterprise business, you are likely to have a greater need for more services with greater functionality and demand. We know how important it is to have efficient IT in place keeping your data, users and infrastructure secure no matter what kind of business you run. With the increasing number of risks and threats such as malware, ransomware and phishing our IT Support for Enterprise Businesses focuses even greater attention ensuring you are safe and in good hands.
OFFICE 365 AND AZURE SUPPORT
Office 365 is used by over a million companies worldwide and growing every day. With companies using the subscription based service not just for Email, SharePoint, OneDrive, Teams, the office apps are also a fundamental part used too. Managing Office 365 can be a time consuming task which requires knowledge and expertise to ensure the expected functionality for your business is there. With Microsoft Azure evolving to more than 200 products and often working side by side with Office 365 it makes logical sense for a support solution which incorporates both suites. With many years experience, you can be sure that Proxar IT Consulting can help you with Office 365 and Azure support.
CLOUD IT SUPPORT
If you want your business to thrive using the latest technologies, you will probably already be aware that you need the help of an IT Support company whom are resourceful and will keep your business systems running continuously smoothly with little to no downtime. As more services than ever before evolve becoming cloud/SaaS (Software as a Service) based, Cloud IT Support services are turning into a business necessity. With cloud computing including servers, storage solutions, networking and software just to name a few becoming partially or fully cloud based Technologies, now is this time to look at getting your business Cloud IT Support.
TAILORED IT SUPPORT PACKAGES
Here at Proxar IT Consulting, we provide a range of IT support packages to suit the needs of your organisation, regardless of your industry. We have three IT support packages to choose from, Silver, Gold and Platinum. You'll be sure to find a package that strikes the right balance between your organisation's technical requirements and your budget. If you are after a service which isn't standard on the Support Package you are leaning towards, we can Tailor a unique Support package which bolts on additional services.
24/7 IT SUPPORT
For that added piece of mind Proxar offer 24/7 IT Support. This guarantees fast repairs and replacement if things go wrong. This service is available for not just day-to day users, workstations and servers but also Networking.
BENEFITS OF OUTSOURCED IT SUPPORT
Whether you run a small, medium or large scale enterprise, outsourcing your IT is always going to be one of those all important decisions between hiring internally, or outsourcing the service to a London or other major city IT Support company. Learn more about the benefits of outsourced IT Support from Proxar IT Consulting as we discuss the added values which we can provide ranging from Lower operating costs for higher quality, keeping up with Compliance security and latest Technologies to the undeniable advantages of multiple peers being available before, during and after business hours.