Network and Wi-Fi Deployment
Are you a new business kitting out your first office in the UK? Relocating to a new one or extending your existing premises? Maybe you're just upgrading old equipment to new. Whatever your situation, ensuring you have the right network in place and setup correctly will lead to a more robust and better performance infrastructure. Network and Wi-Fi deployment are increasingly complex. Their ever-evolving designs makes them even harder for non-IT professionals to know, understand and support, particularly when combining security requirements with what works best.
Proxar IT Consulting specialise in office moves and relocations in London and throughout the UK, where we review, audit, design, setup, support and monitor your entire IT infrastructure. Through our tailored Network and Wi-Fi deployment services, we help you get the most from your network.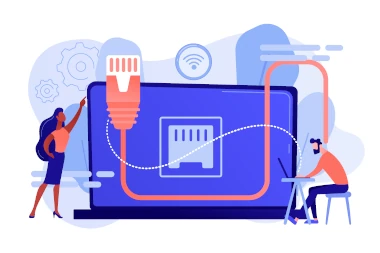 Office network deployments typically consist of:
WAN – Wide Area Network
LAN – Local Area Network
WLAN – Wireless Local Area Network
When deploying a Network, we take into consideration all three networking topologies and evaluate them based on your business requirements. Taking into consideration your needs, budget, and growth prospects, we design the perfect network that delivers without compromise.
Understanding Wi-Fi Deployments
Wi-Fi deployments can be complicated. You want to achieve the right balance between limiting black spots (areas with no signal) and maintaining best practices of not overlapping the signal. But ensuring a wireless network is available and secure isn't the only consideration when deploying a wireless network. In fact, our network deployment also include:
Number of Access Points required
Are Wireless Controllers required
Planning for capacity
Using the right equipment
Number of Wireless Networks needed
Access Point Speeds
Access Point frequencies
Survey
Maintenance plans
Disaster Recovery (DR)
What Benefits Can Proxar IT Provide You?
Allows for or plan for Resiliency
Make room for Scalability
Increased speeds
Protect data
Network setup to best practise standards
Ongoing monitoring services
Ongoing network support services
For more information on our Network and Wi-Fi deployment or if you would like a quote, please contact us.