Integrations of Cloud and On-Prem
As businesses continue to shift towards digital transformation, the integration of cloud and on-premises technologies has become increasingly popular. This integration of cloud and on-prem, known as hybrid cloud, allows businesses to utilise the benefits of both cloud and on-premises solutions.
We offer a range of services and features to support UK businesses looking to integrate hybrid cloud solutions. These services include cloud migration, data management, and security solutions. Our team of experts work with you to identify which workloads and applications are best suited for the cloud, and which are better suited for on-premises solutions, ensuring your business finds the best fit for your needs.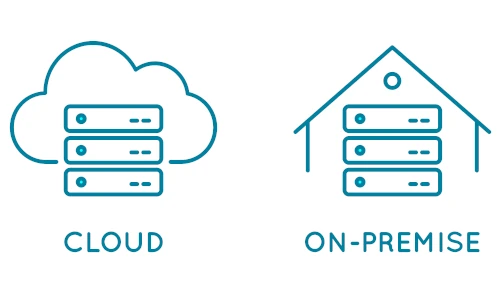 What is the hybrid cloud?
Also known as Hybrid Cloud, the integration of cloud and on-prem unifies and combines a mixed computing, storage and services environment. This will often consist of an on-premises infrastructure and private cloud services and/or a public cloud such as Microsoft Azure or Amazon Web Services (AWS) enabling your business to connect environments optimising greater control and bringing you all those services and features you need.
It allows organisations to leverage the benefits of both environments. This approach allows businesses to store sensitive data on-premises, while utilising the scalability and flexibility of cloud computing. With hybrid cloud, businesses have greater control over their data and can choose which applications and workloads to host in the cloud or on-premises.
Many businesses also turn to hybrid cloud environments to support a migration between current on-premise infrastructure to a cloud solution designed to increase efficiency and reduce costs, be it an Email Migration, a Data Migration or even a Server Migration. Others use it as a scalability solution once the capacity of on-premise infrastructure has been reached.
What are the differences between the private cloud and public?
A public cloud utilises a shared infrastructure whereas a Private Cloud provides an infrastructure exclusively for your business.
Advantages
Disadvantages
Public Cloud

Scalability (both up and down)
Reliability
Lower capital expenditure (capex) o Less control over security

Less control over security
Higher operational expenditure (opex)

Private Cloud

Flexibility
Security
Greater control and customisation
Potentially lower TCO (Total Cost of Ownership)

Higher costs
Responsibility
Less flexibility
Want to know more?
If you'd like to explore how Proxar IT Consulting can work with your local London business to identify and implement the best cloud solution to integrate cloud and on-premises servers for your needs, contact us today.