Cybersecurity
Many people are of the opinion that a Cyber-attack only happens to those large businesses out there and are of the belief that small and medium sized businesses are of no interest to cyber-attackers, when in actual fact any UK business who has a device connected to the internet are in need of Cybersecurity.
Cybersecurity is the practise of protecting systems, networks and programs from attacks. An attack is often aimed at accessing, changing, or destroying sensitive information and extorting money from businesses.
Proxar IT Consulting can help you to deliver efficient Cybersecurity measures helping to protect not only users but also the data, infrastructure and services within. For this reason, it's always good practise to ensure you have backups of your data and a Disaster Recovery Plan in the event of a cyberattack.
Cyber threats typically include:
Malware: ransomware, spyware, trojans botnets software, rootkits, viruses and worms
Backdoors: gaps in configuration allowing remote access
Formjacking: inserting malicious code into online forms
DNS (domain name system) poisoning attacks: compromising DNS to redirect to a malicious site
Cryptojacking: installing illicit cryptocurrency mining software on devices
DDoS (distributed denial-of-service) attacks: flooding traffic requests to servers, systems and networks in an attempt to take them offline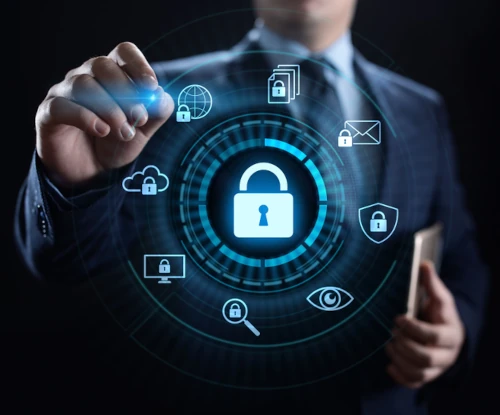 CYBERSECURITY SERVICES PROVIDED IN LONDON AND THROUGHOUT THE UK:
Should you be looking for more information on Cybersecurity and how to protect your business or are interested in an audit, please contact us for more information and we will be happy to assist.
CYBERSECURITY AUDIT
Located in London or elsewhere in the UK, our comprehensive Cybersecurity audit will identify and evaluate your infrastructure is configured and protected using the appropriate policies and procedures in the best possible way. Any identified gaps in security policies or other issues found within the infrastructure will all be documented and sent back in an overview report
CLOUD SECURITY
Implementing security measures for public, private and hybrid cloud solutions for business designed to protect networks, infrastructure, data, applications and users from threats and vulnerabilities putting your infrastructure and business at risk
IMPLEMENTATION OF MS DEFENDER FOR ENDPOINTS
Combined with continuous monitoring of all endpoints within your infrastructure detecting vulnerabilities, with a bolt on feature which will automate a response to a suspicious activity or incident by using Endpoint Detection and Response (EDR)
NETWORK SECURITY IMPROVEMENTS
With our array of techniques which include performing an audit and mapping, firmware and software updates, VLAN segregation, VPNs, IPsec encryption, MAC address filtering and Wi-Fi authentication and encryption methods you can be sure to improve your Network Security
PCI DSS COMPLIANCE
UK Businesses who accept, process or transmit card payments are obliged to comply with the Payment Card Industry Data Security Standard. A set of security requirements intended to help prevent a data breach compromising your business
ISO 27001 COMPLIANCE
An auditable standard and compliance level for businesses of any size to Maintain an Information Security Management System (ISMS) which contains policies, procedures, processes and systems in order to manage your business information which may include security risks, data leaks, cyber-attacks and theft
CYBER ESSENTIALS COMPLIANCE
Demonstrate to other companies with this accreditation that your business has adopted a good base level of security by becoming Cyber Essentials Compliant and prove that your business is secure to an approved standard
CYBERSECURITY PLUS COMPLIANCE
An in depth and rigorous certification designed to test your business to a very high-level analysing key areas to show protection is in place against the most common cyber threats and show you are committed to cyber security. The accreditation being highest level of certification offered under the cyber essentials scheme