The Benefits of Cloud Computing for Small and Medium Sized Businesses
Cloud computing is rapidly becoming the preferred option for UK businesses of all sizes when it comes to IT infrastructure. In particular, small and medium-sized businesses (SMBs) are increasingly seeing the benefits of adopting cloud computing. Its flexibility, scalability, and cost-effectiveness are attractive, particularly when resources are limited. In this article, we'll explore the benefits of cloud computing for SMBs, and why working with a trusted, London-based IT company is key to maximising those benefits.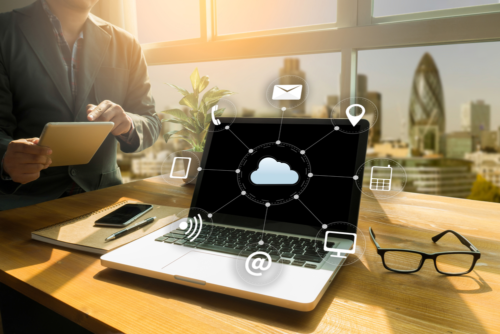 What is cloud computing?
Cloud computing is a method of delivering computing services over the internet. Instead of owning and maintaining physical servers and infrastructure, businesses can access computing resources such as storage, computing power, and applications through a cloud service provider. It has numerous benefits, particularly for SMBs, that we'll explore later in the post.
Cloud computing providers typically offer a range of services and deployment models. Software as a Service (SaaS) allows businesses to access software applications and tools through the internet, while Platform as a Service (PaaS) provides a platform for businesses to develop, run, and manage their own applications. Infrastructure as a Service (IaaS) provides businesses with access to virtualized computing resources such as servers, storage, and networking. Public clouds are owned and operated by third-party service providers, while private clouds are owned and operated by the business itself. Hybrid clouds combine elements of both public and private clouds, allowing businesses to customise their IT infrastructure to meet their specific needs.
Benefits of cloud computing for SMBs in the UK
Cost savings: The cost savings associated with cloud computing for small businesses can be significant. With traditional on-premises systems, businesses must invest in expensive hardware and software infrastructure, as well as the ongoing maintenance and upgrades required to keep the system running smoothly. In contrast, cloud computing allows small businesses to pay for the services they use on a pay-as-you-go basis, which can save them money in the long run. This means that they only pay for the resources they need. Furthermore, by accessing their data and applications through the internet, using any device with an internet connection, small and medium sized businesses do not need to invest in costly in-house IT staff to manage and maintain their systems. For SMBs looking to reduce their costs, cloud computing is an attractive option.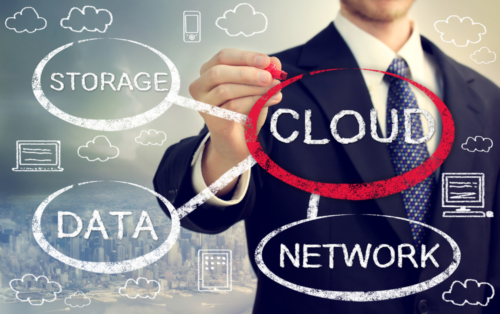 Scalability: Scalability is a large part of what makes cloud computing a perfect fit for many SMBs. Traditional on-premises systems often require businesses to over-provision their hardware and software resources, which can be expensive and wasteful. Cloud computing, on the other hand, allows businesses to quickly and easily scale their computing resources up or down to meet their changing needs. For example, if a small business experiences a sudden surge in demand for its services or products, it can quickly scale up its computing resources to handle the increased traffic. Similarly, if the demand decreases, the business can easily scale down its resources to avoid unnecessary costs. This flexibility and agility allow small businesses to respond quickly to changes in the market, without the need for costly hardware upgrades or replacements through lengthy procurement channels. In doing so, SMBs can stay nimble and responsive in a rapidly changing business environment.
Flexibility: A third key benefit of cloud computing is the flexibility it allows businesses. Cloud computing allows businesses operating in London and across the UK, to access their data and applications from anywhere, at any time, and from any device with an internet connection. This means that employees can work remotely, from home or on-the-go, without the need for complex and expensive remote access solutions. Additionally, cloud computing allows businesses to collaborate more easily, as employees can share files and information in real-time from any location. This flexibility can also be beneficial for small businesses that have a distributed workforce or multiple locations. This allows businesses to quickly and easily adapt to changes in the market or business environment, making it a great option for small businesses looking to increase productivity while staying agile.
Reliability: Reliability is a crucial benefit of cloud computing for small businesses. Cloud providers typically use secure, redundant data centres to store and manage their clients' data and applications, which means that small businesses can rely on the provider's expertise and infrastructure to keep their systems running smoothly. Cloud providers also offer a range of security measures, such as firewalls, encryption, and multi-factor authentication, to protect their clients' data from cyber threats. In the event of a hardware failure or other disaster, cloud providers typically have backup systems in place to ensure that businesses can still access their critical data and applications. This means that small businesses can avoid costly downtime, which can have a significant impact on your bottom line.
Additionally, cloud providers often offer service-level agreements (SLAs) that guarantee a certain level of uptime and availability, which can provide small businesses with peace of mind. This level of reliability allows you to focus on your core business activities - not worrying about managing or maintaining your IT infrastructure.
How Proxar IT Consulting can help
While cloud computing offers many benefits for SMBs, it's important to work with a professional and reliable IT company in the UK, to introduce it to your business and ensure proper maintenance. At Proxar IT Consulting, we offer the experience and expertise you need to ensure proper configuration of your cloud computing, ensuring that it is fit to meet your business needs. What's more, cloud computing comes with its own set of security risks, meaning it's essential to work with a trusted IT support company to protect your data.
After setup, we can provide ongoing support and maintenance for your cloud infrastructure, ensuring that it continues to perform optimally and that any issues are quickly addressed. This minimises downtime while maximising productivity. While an additional cost, working with a professional IT company can actually save you money in the long run by ensuring your cloud infrastructure is operating at peak performance.
Want to know more?
If you're interested in exploring cloud computing for your SMB, contact Proxar IT Consulting today to learn more.