IT Strategy Consulting
IT Strategy is a set of principles, tactics and organisation's objectives associated with the technologies used by the company. The strategy has to focus on Information Technology and on people who manage those strategies. IT Strategy alone is not effective; it must be combined with other services like: Network Design, Network Management, IT Consulting, IT Project Management to maximize Information Technology contribution to business results.
Proxar's IT Strategy focuses on:
• Who is responsible for your network?
• What aspects of the network will be outsourced?
• What third party companies are required to provide comprehensive support?
• What resources will be required to meet your needs?
• How can we exceed your expectations?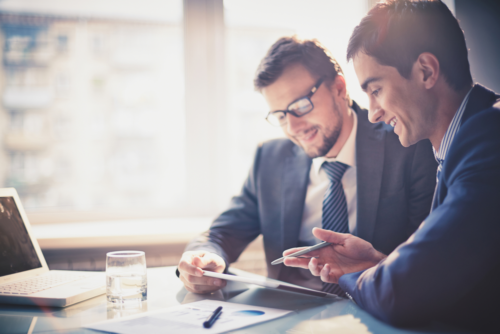 How IT Strategy can help you?
Careful IT Strategy planning can lead to:
• Increased network performance;
• Increase in competitive superiority;
• Effective spending on technology;
• Avoidance of incompatible system acquisition;
• Use of technologies to create a value for your business;
• Increased IT efficiency and effectiveness;
• Establish new strategic directions or review existing ones;
• Specify how Information Technology can support growth;
• Planning ahead of the development of your system;
• The best use of Information Technology resources now and in the future.
How to create your IT Strategy?
First of all IT Strategy has to be centred on your needs rather than ours. Information Technology infrastructure has to support your business every step of the way. It is not only a plan how to spend your budget, but it has to give you technology, which will support your staff and maintain productivity.
Our IT Consulting approach and experience in Network Design, Network Management and IT Project Management will help you to build perfect IT Strategy. We also have extensive knowledge of which vendors are the best for a specific task. Proxar Specialise in Cisco and Red Hat Enterprise Linux. However, by remaining vendor independent we are able to deliver solutions, whichever technology you decide to use.
In order to create an effective IT Strategy, Proxar will take into account all aspects of your UK business (the requirement of contracting suppliers and third party companies, any training needs, what can be completed internally) and deliver the best solution available to your business. We will calculate the final cost of implementing and maintaining your infrastructure.
When devising your IT Strategy you should consider:
• What aspects of Information Technology System is essential to your business;
• What do you currently have and what is required;
• How many end devices will you require;
• What general standards (operating systems etc.) you will be using;
• Reviewing your current IT infrastructure, support and what will you require going forward;
• Consider your mobile workers, how will you keep them connected;
• Clear, documented Start date, End date and Objectives for the project;
• Create an accurate and strict budget for the project
Utilising our extensive experience Network Design, IT Project Management and IT Consulting we can help design your IT infrastructure, give ideas on what other hardware and software is necessary and prepare a business plan, which can be verified, improved or acknowledged.
IT Strategy Consulting London, UK and Kent - Proxar IT Consulting.