Unlocking Success: Powering Your Projects with Proxar IT's Exceptional Project Management Services
Efficient and effective project management is essential to the survival of every business. As a result, it's unusual to find a business that's not well-versed in the nuances of project management.
Yet when it comes to IT project management, even the most experienced change managers can feel out of their depth. IT project management encompasses the planning, coordination, and execution of projects within the realm of information technology, and involves a strategic approach to ensure that IT projects are completed on time, within budget, and with the desired outcomes. Effective project management is just as critical to the successful execution of IT initiatives as in all other business initiatives - so what does a business in the UK need to know about it to succeed?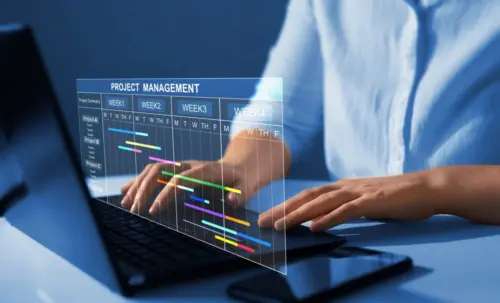 The basics of IT Project Management
At its core, IT project management is about bringing together people, processes, and technology to achieve specific objectives. It involves defining project goals, identifying project requirements, allocating resources, and managing project timelines. Just like in other project management, the project manager plays a pivotal role in orchestrating these elements, ensuring that all project stakeholders are aligned, risks are mitigated, and project deliverables are met.
Why would my business need IT Project Management?
Your UK business may need IT project management in many different scenarios, in fact, there might be some ideas on this list that you've already implemented! Just like normal project management, IT project management is used for projects with a clearly defined scope, a beginning and end date, and usually, a project team. Let's explore some common situations where the application of IT project management is crucial for business success.
Implementing New Technology
If your business is looking to adopt new technology solutions, such as Microsoft Azure, Microsoft Defender, or cloud-based infrastructure, IT project management becomes essential. A project manager will oversee the planning, execution, and integration of the new technology, ensuring a seamless transition and successful implementation. They will coordinate with stakeholders, manage resources, define project objectives, and monitor progress to deliver the desired outcomes within the allocated time and budget.
Developing Custom Software Applications
In cases where a business needs to develop custom software applications to address specific operational or customer needs, IT project management is critical. It's necessary to have a dedicated resource that works closely with business analysts, developers, and stakeholders to define the project requirements, establish a development roadmap, allocate resources, and manage the software development lifecycle.
Infrastructure Upgrades and Migrations
When a business plans to upgrade its IT infrastructure or migrate to a new platform, such as moving from on-premises servers to a cloud-based infrastructure, IT project management is vital. Here at Proxar IT Solutions based in London, we specialise in migrations and infrastructure upgrades. We assess the current infrastructure, develop a migration strategy, coordinate with vendors or service providers, and manage the implementation process. We also handle tasks such as data migration, system testing, training, and change management, ensuring minimal disruption to business operations and a smooth transition to the new infrastructure.
Managing Large-Scale IT Initiatives
Large-scale IT initiatives, such as enterprise-wide digital transformations or an office move, require comprehensive project management to ensure their success. These initiatives involve multiple interdependent projects, diverse stakeholders, and significant organisational change. At Proxar IT Consulting, we take a holistic approach to these initiatives, managing the overall program, coordinating various projects, aligning project goals with strategic objectives, and providing leadership and guidance to project teams. By employing IT project management principles, these complex initiatives can be effectively executed, minimising risks and maximising the desired business outcomes.
It's possible that your business will need IT Project Management in a variety of scenarios, not just the ones we've explored above. Yet one uniting factor in each instance will be the goal to deliver value to the organisation.
How to make IT Project Management successful
If your business is undertaking IT Project Management, you'll want to give yourself the best chance of success. After all, there's little point investing significant resources such as time, energy, and additional employees without seeing some form of return on investment. With that in mind, let's take a look at the factors that can help influence the outcome of your IT project.
Communication
Effective communication lies at the heart of successful project across the world, and IT project management is no different. The project manager acts as a bridge between technical teams, stakeholders, and executives, facilitating collaboration and ensuring that everyone is on the same page. Clear and regular communication channels enable the identification and resolution of potential issues, foster a culture of transparency, and promote stakeholder engagement and buy-in. As a result, they facilitate the success of your project.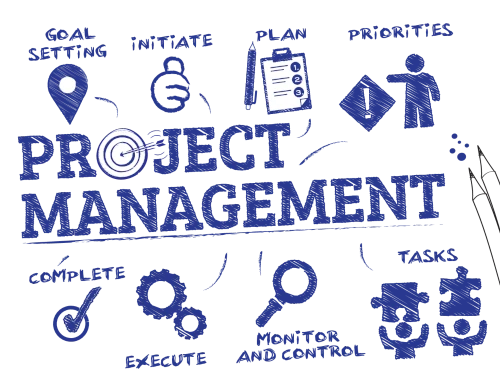 Risk Management
Risk management is another critical aspect of IT project management. In the dynamic IT landscape, projects face numerous risks, such as scope creep, technology complexities, resource constraints, and external dependencies. A skilled project manager anticipates potential risks, develops mitigation strategies, and monitors risks throughout the project lifecycle. By proactively managing risks, you can minimise the likelihood of project delays, cost overruns, and quality issues, and set your project up for success.
Adaptability and agility
In IT projects, requirements and technologies can change swiftly. Project managers must be prepared to navigate these changes by employing flexible project methodologies, close collaboration with stakeholders, and responding quickly to changing project needs. It's also a must to stay abreast of the latest technological advancements so that no new innovation can catch you by surprise. By embracing agility, IT project management ensures projects can adapt to evolving business requirements and deliver value in a timely and relevant manner.
What if my IT department can't deliver IT Project Management?
IT project management requires a specialised skill set and in-depth knowledge of project management methodologies, tools, and best practices. Unless your business has hired an IT professional based on their expertise, you may find your in-house team lacks the key competencies necessary to navigate these complexities effectively. On the other hand, you may also find that your in-house IT department is focussed solely on business as usual tasks, leaving them with little bandwidth or resources to take on additional projects.
Outsourcing IT Project Management is the perfect solution for UK businesses without the resources to achieve it in-house. Outsourcing provides businesses with access to a team of experts who possess extensive industry knowledge and a proven track record in delivering successful projects. These professionals bring a wealth of experience and insights, enabling businesses to leverage their expertise for effective project planning, execution, and risk management. At Proxar IT Consulting, our team of London based seasoned professionals are well-versed in handling projects of all scales and complexities. Our experts stay abreast of the latest industry trends, best practices, and emerging technologies, ensuring that our clients receive innovative and future-proof solutions. By tapping into the knowledge and skills of a trusted IT project management partner, you can give your business project the best chance of success.
Secondly, outsourcing project management allows businesses to concentrate on their core competencies and strategic initiatives. Managing complex IT projects can be time-consuming and resource-intensive, diverting attention and resources from core business functions. By entrusting project management responsibilities to external experts such as Proxar IT Consulting, businesses can free up internal resources, allowing employees to focus on their primary roles and responsibilities. This enables organisations to optimise productivity, enhance innovation, and achieve greater operational efficiency.
By entrusting your IT Project Management to the professionals, you can maximise the scalability and flexibility of your project. Outsourcing offers the flexibility needed to ensure efficient resource allocation, minimised resource shortages, and enhanced project efficiency by allowing businesses to tap into the right expertise at the right time. Here at Proxar, we know when to scale up resources to meet a large-scale project's needs and when to reduce the team size to match project phase, giving you the agility to respond better to market demands and stay ahead of the competition.
Perhaps most importantly, it's clear that IT projects often involve complex workflows, tight timelines, and multiple stakeholders. Effective management is crucial to ensure project success and minimise risks. With IT Projects often carrying high stakes, many businesses prefer to entrust their management to professionals who possess a deep understanding of project management methodologies, risk assessment techniques, and quality assurance processes. It's important to find an IT Solutions company with the expertise to navigate potential challenges, proactively manage risks, and ensure that projects are delivered on time, within budget, and with the desired outcomes
If you want to give your IT project the best chance of success, choose a partner you know you can trust. Here at Proxar IT Consulting, our IT Project Management is first of its class. We safeguard UK businesses from costly project failures, reputational damage, and budget overruns by ensuring that every project is delivered with excellence at its core. Learn more about how we can support your business' IT Project Management by clicking here or by getting in contact with us today.