Streamlining Business Success: The Power of Outsourced Server Management with Proxar IT Consulting
As businesses strive to maintain a competitive edge, the demands placed on their server infrastructure continue to grow, encompassing everything from data storage and security to seamless scalability. In such an environment, relying solely on an in-house IT team to manage servers can often lead to resource drain, inadequate expertise, and missed opportunities for innovation. This is where the strategic choice of outsourcing server management emerges as a transformative solution, enabling UK businesses to harness the power of specialised expertise while streamlining their operations for optimal efficiency and growth.

Let's dive straight in to how server management can benefit your business, beginning with an overview of server management as it stands
The Complex Landscape of Server Management
The landscape of server management is increasingly becoming an intricate terrain, presenting businesses with a multitude of challenges that extend far beyond the realm of basic maintenance. Effectively managing servers entails navigating a complex web of factors that can impact a company's productivity, security, and overall growth.
What are the challenges of server management?
Businesses grapple with an array of interconnected challenges in the realm of server management. From data storage optimization to application performance, each facet requires meticulous attention to detail. These challenges include:
Data Volume and Performance: As businesses generate and process massive volumes of data, ensuring optimal server performance and data accessibility is a daunting task.
Application Complexity: Complex applications demand a robust and adaptable server environment, necessitating continuous monitoring and fine-tuning.
Resource Allocation: Balancing resource allocation between various applications and workloads requires careful planning to avoid bottlenecks or inefficiencies.
What are the security concerns of server management?
The rapid pace of technological advancement introduces both opportunities and complications. As businesses adopt new technologies to stay competitive, they also expose themselves to evolving security threats. In this area, businesses should consider:
Technological Innovation: Constant technological innovations demand a dynamic approach to server management, ensuring compatibility and optimal utilisation of resources.
Security Vulnerabilities: Every technological leap introduces potential security vulnerabilities that must be addressed to safeguard sensitive data and maintain business continuity.
Compliance and Regulations: Adhering to industry-specific regulations and data protection laws is a constant challenge, requiring vigilant monitoring and proactive adjustments.
Scalability Issues and Specialised Expertise
In an environment where growth is the norm, the scalability of server infrastructure is of paramount importance. Accommodating surges in demand while maintaining seamless operations requires both technical know-how and strategic foresight:
Scalability Challenges: Rapid business expansion can strain server resources and lead to downtime or performance degradation if not managed adeptly.
Resource Planning: Effective scaling demands meticulous planning and resource allocation, often requiring specialised expertise.
Expert Insight: The complexities of modern server management necessitate a deep understanding of evolving technologies, making specialised expertise a crucial asset.
In light of the growing list of challenges, the need for specialised expertise when it comes to server management is increasingly evident. If your business is looking not just to survive but to thrive, the need for outsourcing server management is an attractive pathway to streamlined operations, optimised performance, and fortified security measures.
How can Proxar IT Consulting Support your Server Management Needs?
Here at Proxar, we take immense pride in our ability to comprehensively support all your server management needs. Below, we take a look at what makes our server management offering unique. 
In-depth Expertise
At the heart of our server management prowess lies a team of seasoned professionals, each wielding a rich tapestry of diverse server management skills. With years of experience under their belts, our experts have honed their crafts of server optimisation, and maintenance. From cloud-based solutions to on-premises infrastructure, our team of professionals have got the know-how to navigate a multitude of server environments with ease.
From international enterprises to small and medium sized UK businesses, we have a wealth of experience when it comes to the challenges posed by unique server ecosystems. We have not only managed these servers, but transformed them into thriving centres of operational excellence.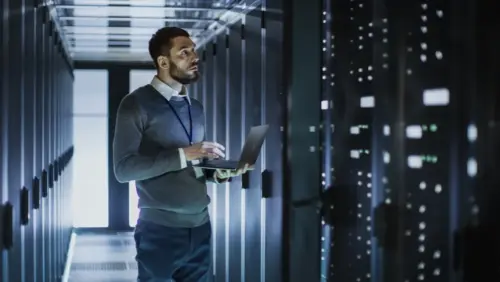 Comprehensive Services
Here at Proxar, our commitment to elevating server management reaches far and wide. Our range of services offers a holistic approach to ensure the optimal functionality of your server infrastructure. From initial configuration tailored to your specific requirements to ongoing optimisation that fine-tunes performance, we design our services to deliver reliability, efficiency, and scalability.
Tailored Solutions
We don't believe in one-size-fits-all solutions. With an acute understanding that each client's needs are distinct, we take a bespoke approach to your server management. The journey begins with an in-depth assessment of your organisation's objectives, challenges, and existing server architecture. Armed with this knowledge, we then craft customised server management strategies that seamlessly integrate with your business goals, ensuring a harmonious alignment between technology and ambition.
Cutting-edge Technologies
In the dynamic realm of server management, staying up to date with the latest tech is non-negotiable. Here at Proxar, we pride ourselves on being at the vanguard of technology adoption. By integrating the latest technological advancements into our solutions, we guarantee that your server environments are not only up-to-date but engineered for optimal efficiency and performance. From AI-driven predictive analytics to containerisation technologies, we'll leverage the right innovations to future-proof your infrastructure.
Proactive Security Measures
The security of your data and applications is paramount to us at Proxar. With a steadfast commitment to safeguarding client assets, we employ an array of advanced security measures including robust encryption protocols, intrusion detection systems, and real-time threat monitoring. By preemptively identifying vulnerabilities and swiftly mitigating risks, we help to ensure that your server environments remain resilient in the face of an ever-evolving threat landscape.
Client-Centric Support
Technology is our bread and butter, but the cornerstone of our partnership approach is an exceptional customer support team that places you at the centre. Should any issue arise, our dedicated support teams are primed to provide swift and effective resolutions. With a focus on minimising downtime and maximising uptime, Proxar's support philosophy underscores our commitment to your success.
In the realm of server management, we're proud to be known as not just a service provider, but a dedicated partner that is poised to optimise, secure, and elevate your server infrastructure to new heights of efficiency and reliability.
Steps to a Seamless Transition
Navigating the transition to outsourcing server management with Proxar is a streamlined process that ensures minimal disruption and maximum benefits for your business. Here's a concise step-by-step guide for businesses considering this strategic move:
Needs Assessment: We'll begin by identifying your specific server management requirements and challenges over a short telephone consultation to enable us to tailor our solutions to your goals.
Migration Plan: We'll help plan the migration process well in advance to ensure a smooth transfer of data and applications to our managed environment. This step minimises downtime and potential disruptions.
Deployment and Configuration: Our team of professionals will implement your tailored solution, configuring servers, applications, and security measures to match your requirements precisely.
Performance Optimisation: Once the transition is complete, our team will continuously monitor and fine-tune the server environment for optimal performance and efficiency.
Ongoing Support: Of course, you can benefit from our dedicated customer support at any time to swiftly address any issues that may arise and ensure seamless operations.
By following these steps, your business can seamlessly transition to Proxar's expertise, unlocking the full potential of outsourced server management for enhanced efficiency, security, and growth.
Conclusion
Now more than ever before, effective server management presents dynamic challenges that demand strategic prowess and specialised expertise. As businesses grapple with multifaceted obstacles, be it escalating data volumes and complex application demands or evolving technologies and security concerns, the need for scalability and an imperative for specialised proficiency become ever more apparent.
Of course, the journey toward optimal server operations is easier with an experienced professional at your side. Here at London based Proxar IT Consulting, we work in partnership with you to navigate this complex terrain. With our team of seasoned professionals boasting diverse expertise, we offer a proven track record in handling intricate server environments across industries. 
Our comprehensive services span from tailored solutions, underpinned by a deep understanding of clients' unique needs, to the integration of cutting-edge technologies ensuring up-to-date efficiency. These strengths are fortified by our proactive security measures and a commitment to exceptional client-centric support. As a beacon of reliability and innovation, we're proud to help businesses overcome the challenges of server management, achieve streamlined operations, fortified security, and sustained growth.
Ready to streamline your business operations with effective server management? Get in contact with us today!