Cybersecurity: your guide to cybersecurity audits
Cybersecurity is a word we've all heard, but few businesses take it as seriously as they need to. Cybersecurity is what's standing between you and attacks to your networks, data, and infrastructure, keeping your business, employees, and customers safe. A cybersecurity audit is recommended yearly for most UK organisations - at a minimum. 
The damage caused by cyber attacks simply can't be over exaggerated. The damages can be financial - think back to the one week in 2022 which saw cybercriminals steal $625 million from the gaming titan Ronin Network.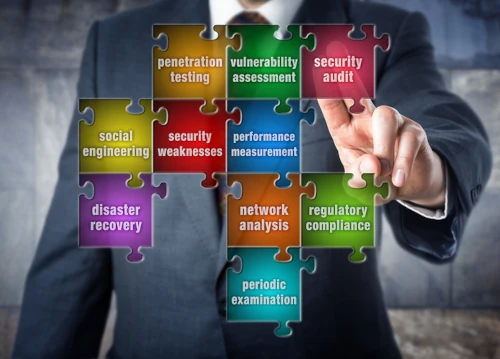 They can also cause huge reputational and legal ramifications. In 2017, Equifax's network vulnerability was exploited by hackers to steal credit card details and personal identification data from over 147.9 customers in the US, UK, and Canada. Under strict GDPR rules, the ICO found Equifax guilty of failing to properly secure their data and fined them half a million pounds, serving an additional blow to the devastating publicity they had already faced.
Of course, these examples are so striking because they happened to large enterprises with supposedly the best security systems. Yet cyberattacks can hit businesses of any size, including small and medium enterprises. The threat of reputational damage, legal fines, and widespread disruption and chaos remains the same no matter the size of your organisation. Businesses need protecting, and they need that protection to be secure and effective.
The first step to protecting your UK business is understanding your vulnerabilities so that you can target your resources to deliver the maximum improvements. After all, if you were protecting your property, you wouldn't bother installing state-of-the-art laser mazes through your hallway if your backdoor had a broken lock. By conducting a cybersecurity audit, we can pinpoint your strengths and weaknesses, and use our expertise to recommend and implement critical improvements. But what does that entail? 
Let's look at what an outsourced cybersecurity audit should include, why it should be your next step in your security, and how you can implement it.
What should a cybersecurity audit include?
Network audit
One of the first things you should look for when requesting a cybersecurity audit is a network audit. This is an evaluation of your network's health, which critically influences the security of your systems. By doing so, you can identify and resolve potential network issues before they become a problem. Typically, it should include analysis of control implementation, availability, security, management, and performance of your network.
At Proxar IT, we offer the standard analysis you'd expect, alongside an assessment of how well your network meets any applicable compliance regulations. We assess the entire network before providing you with a detailed report and detailed security recommendations of how to shore up your network defences. This can take as little as one day, or, for more complex networks, up to three weeks, but in any scenario, you can be sure that experienced engineers are thoroughly reviewing every element of your network, leaving no stone unturned.
Cloud security audit
Cloud security audits, or cloud audits, are a second vital part of your checklist. With more and more businesses using the cloud every day for an ever-increasing list of business activities, the need to report on its security is growing. Cloud audits should include considerations of:
Access management
Reporting on traffic and failed user authorizations
Alerting systems
Encryption
Data retention
Privacy
At Proxar IT, we combine these standard assessments with a formal penetration test (pen test) to see just how well your defences cope with a simulated cyber attack. Our security experts located in London, can deliver a review of your entire configuration and make detailed recommendations in only one week - just one of the benefits of getting an expert in cloud security to review your systems. 
Data security
As we saw in the case of Equifax, data breaches can be costly. That's why identifying any vulnerabilities is paramount to keeping your business safe from both data attacks and the legal ramifications that mount with every failed precautionary measure. At this step of your IT audit, we consider:
Data recovery strategies. What strategies do you have in place so that if the worst does happen, you can get your data back as soon as possible? This includes obvious measures such as continuous backups and whether these are correctly implemented.
Staff training. Have your staff undergone the necessary training on data handling and sensitivity to comply with GDPR regulations?
Encryption of data at rest and in transit. Is your data correctly encrypted at both ends?
Access controls for required access. Access to sensitive data should be allocated on a need-to-know basis only.
Multifactor authentication. Is this properly installed and utilised?
Operational security
Sometimes, seemingly innocent actions accidentally lead to cyber attacks, whether through leaking critical or sensitive data or forgetting a critical step in the security path. Operational security IT audits help pinpoint where these vulnerabilities might appear in your organisation's operations and use risk management to reduce the threat. After identifying what counts as sensitive data (this might be a more expansive list than you realise!), Proxar IT then looks for vulnerabilities within your everyday processes. This might be something as simple as somebody using the same password for all of their accounts, a personal assistant with access to every bit of data, or employees working on their commute without a privacy screen.
This is an area of your IT audit that requires professional expertise. The list of risks are endless, and can easily be overlooked by those without the proper experience. Here at Proxar IT, we're well-versed in what to look out for, meaning you can be sure your cybersecurity audit is thorough and complete.
What else?
We've covered the basics of what a cybersecurity audit should include. Of course, more comprehensive IT audits are available: for example, Proxar IT's cybersecurity audit includes additional checks of your business' system security and physical security.
But even the most thorough cybersecurity audits do reach an end, leaving you to wonder what happens next. At this stage, your chosen IT provider should provide you with a list of recommendations. It's at this stage that the benefits of hiring the expert become most obvious: the level of expertise is reflected in the detail and relevance of the recommendations provided.
At Proxar IT, these recommendations are tailored for each unique London or UK customer, meaning you can be sure that your business is receiving targeted advice best suited to help you succeed in your security mission. We remain available after your IT audit concludes to answer any questions you may have and provide detailed guidance on your recommendations. 
Once you've received your report, the final step is obvious: implement your recommendations! It's no use to simply be aware of your vulnerabilities. Taking the time to implement the advice received is critical to enhance your cybersecurity. If you need help resolving any of your highlighted trouble spots, Proxar IT Consulting is on hand to support your install, setup, or implement your recommendations. 
There you have it: a complete guide to what should be included in your next cybersecurity audit and the benefits of choosing the experts to do it.
Of course, cybersecurity isn't just a once-a-year activity. It requires ongoing support and maintenance. Check back next week to explore exactly what we mean by that!