Cisco Consulting Services
Known as an industry leader in networking, Cisco delivers smooth and fast networks for businesses through its software and hardware products. Whether you're looking for networking for access, Internet of Things, data centres, cloud, software, or wide-area, Cisco can provide the solution you're looking for.
Yet at times the range of products and functionality offered by Cisco can feel overwhelming, never mind the associated procurement, installation, and ongoing support they require. Luckily, Proxar IT offers Cisco Consulting services across the UK, designed to be the high-quality solution to your Cisco needs.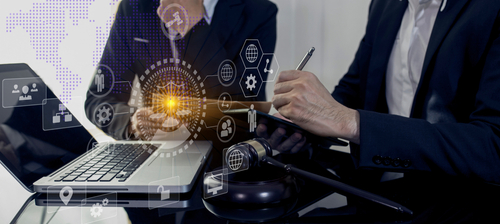 What are the benefits of Cisco consulting services?
All businesses need a fast, robust, and secure network to survive. But why should you choose Cisco?
Cisco networking utilises world-class technology to deliver the following benefits:
Analytics keeping your network healthy. Simple management tools and telemetry data shows advanced insights into the health of your client, network, and applications.
Enhanced security. Get artificial intelligence and machine learning on your security team. They're used by Cisco's products to enact your security policies, identify and classify endpoints, and alert you to the most critical action pieces.
Scalability. With flexible router-port configuration and easy activation ports, you can meet demand dynamically and expand as and when you need to.
Streamline your onboarding and provisioning. Cisco's automated workflows configure and provision new devices on the network in accordance with your network policies quickly and easily.
How can Proxar help?
We place Cisco network consulting at the heart of our services. As Cisco accredited suppliers, our predominantly London based Cisco trained and certified engineers are well-equipped to provide the following services:
Advice
Design
Maintenance
Repairs
Upgrades
Extensions
What other Cisco consulting services Proxar IT can provide in the UK
Cisco Firewall, Routers and Switches Consulting. Firewalls, routers, and switches are a key component of any network, wih firewalls acting as a first line of defence against network-based threats. Ensure they're correctly configured and maintained with our Consulting Service.
Cisco Network Design Consulting. Designing a Cisco Network is no easy task. Our experienced Cisco Networking consultants offer independent evaluations of your IT infrastructure to design the ideal network for your business, tailored to your requirements and requests.
Load Balancing and Advanced Consulting. Load balancing transports data across your network more efficiently, delivering improvements to performance, reliability, and resiliency. Proxar IT Consulting provides advice and recommendations as well as performing setups with full implementation for this tricky topic. We also provide the option of ongoing monitoring and support too.
Cisco Network Resiliency Consulting. Proxar IT Consulting can help provide high availability and continuous IT operations even in the face of unexpected incidents or failures. Our Consultancy services put the right equipment and knowledge to use to minimise outages for your business.
Cisco Maintenance and Upgrades Consulting. Regular maintenance and upgrades are key to a high-performing and better-value network. With our consulting services, you can benefit from a detailed maintenance and upgrade plan, or alternatively, outsource the complex ongoing support entirely to Proxar IT Consulting.
If you'd like to learn more about how Proxar IT Consulting can support monitoring other third-party services required by your network, please contact us for more information.