The Benefits of Outsourcing IT Services
Is your business considering outsourcing IT services but hesitating to take the leap? If so, we're here to help you make your mind up with our list of the top ten advantages of outsourcing IT. From better value to better quality, there's plenty of reasons that outsourcing IT could be the best move you make for your UK business.
Read on to learn why!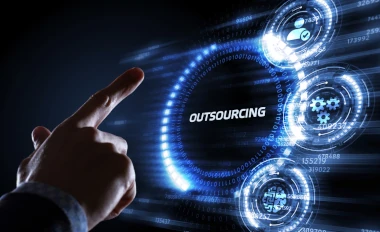 Access to top IT talent
IT is a complex field with many specialisms. Unfortunately, it can be difficult, if not impossible, to fund and recruit an in-house team with the breadth and depth of knowledge and experience across these many different areas. While 'all-rounders' can be ideal for internal departments to tackle the day-to-day issues, sometimes, you just need a specialist.
By outsourcing IT, you can access the talent you need, when you need it. By selecting an IT specialist in the exact field you're looking for, you can enjoy the expertise that is so often unavailable within internal departments.
Access to top IT talent in the UK is one of the key benefits of outsourcing IT. After all, what business doesn't benefit from having expert talent on hand?
Outsourcing IT brings flexibility
Perhaps you're thinking that of the pros and cons of outsourcing IT, a big disadvantage would be that this expert talent doesn't remain within your organisation. However, this is actually one of the major benefits of outsourcing IT: the flexibility!
Often, IT outsourcing services are hired for an IT project which requires specialised skills. While essential for the project, these talents may not be needed long-term. On the other hand, you might find yourself needing them again for a similar project later down the line for a few weeks or months. Maybe you need them to work full time for one week, not at all for the next month, and then again part-time for another few weeks as the project is being rolled out.
If you hire somebody to join your in-house team on a permanent basis, you won't have the flexibility to chop, change, hire and re-hire as the project demands. In the downtime between projects, your new employees' skills would sit underutilised and overcompensated.
By contrast, after successful completion of the project, you can take the outsourced IT professionals off your payroll. When you need them next, you can simply call them up once again. One of the key advantages of outsourcing IT is this level of flexibility to get the skills you need, when you need them. Proxar IT's rolling 30-day contracts are a perfect example of this flexibility in action..
Scalability and sustainable growth
Sometimes, growth happens rapidly and unexpectedly. It's rarely a linear path; instead, growth has many ups and downs along the way.
If you're enjoying rapid growth at the moment, you may be tempted to hire additional resource to your IT team. In fact, with the pace of your growth, you may be tempted to hire three!
But what happens if this period of growth is simply an 'up', and for the next few months, you find the pace of expansion slows, or even stalls? At that point, you're left with three full-time employees with no work and expensive salaries.
IT outsourcing can be the key to sustainable growth. The scalability of outsourced IT means that you can enjoy the extra support during busy periods and downsize (or upsize) as needed if anything changes. In doing so, you can better match your budget and resources to the current growth you're experiencing, setting the path for a more sustainable growth trajectory.
Outsourced IT is cost effective
Of course, it would be impossible to write about the benefits of outsourced IT without mentioning the cost benefits. No company operating in London or elsewhere in the UK is immune to the pressures of budgeting, and every organisation wants the best services for the best price. Outsourcing IT helps your budget in three key ways: 
Flexible and scalable. As we've discussed above, IT outsourcing means you pay for only what you need, when you need it. Rather than paying to have an employee (or employees) who are not only under-utilized but difficult to fire after a project wraps up or growth slows, you can simply finish your contract with your outsourced IT company and enjoy the reduced labour costs.
More accurate budget forecasting. With outsourced IT support, your business can better predict the total cost than paying inflated prices for maintenance and upgrades as and when they come up. A simple monthly fee for a fixed level of support is much easier to budget for.
Better value for money. Top IT experts command high salaries when employed full-time. A business using outsourced IT benefits from the same skills and experience, but at a cheaper price.
With reduced labour costs, flexibility, better forecasting, and better value for money, it's difficult to say no to outsourcing IT. Explore Proxar IT's cost calculator to get an idea of the value for money you could see in your business.
24/7 IT Support for London businesses
Even the most dedicated full-time employees aren't available 24/7. But your business' IT works around the clock, and as we all know, disasters strike at the most inconvenient time - including past 5 pm. So who do you call if your IT goes down at a weekend, or when your IT expert is on holiday?
By outsourcing IT, you can guarantee round-the-clock IT support. 24/7 cover is there to give you peace of mind that your business is supported morning, noon, and night.
A fresh perspective
Sometimes, a fresh pair of eyes is all you need to see a problem or a practice differently. One of the unexpected benefits of outsourcing IT is the innovation your guests bring with them. Outsourced IT professionals bring a fountain of knowledge, considering details you may have overlooked or recommending solutions you didn't know existed. They can bring best practice from previous clients and know what works to solve common painpoints across the IT world.
Without the politics of internal teams or illogical attachment to 'the way things have always been done', outsourced IT can bring objective perspectives and unbiased opinions to help your business innovate and update.
Enhanced compliance and security
It's easy to overlook or postpone compliance and certifications, but doing so can lead to costly fines and missed opportunities.
Failure to comply with GDPR for your customers' data - including having poor-quality IT systems in place to protect it - can lead to financial and reputational damage and a loss of business in the United Kingdom. Similarly, falling behind your competitors in IT security is a recipe for disaster when it comes to consumer trust.
But what are the benefits of outsourcing IT in this scenario?
Outsourced IT teams are well-versed in legislation and best practices and are often experienced in implementing it across many different UK organizations. Their expert advice and guidance can pave the way for your business achieving an ISO 27001 certification, an internationally recognised standard demonstrating the awarded company's processes, procedures, and systems for managing IT security are up to scratch.
Outsourced IT can improve business' performance
Your business' performance, productivity, and efficiency all rely on your IT. Faulty systems or out-of-date hardware can slow your whole business down. With so much at stake, doesn't your business deserve IT professionals who can keep your IT performing the best it can?
If your current IT solution isn't delivering the results you like, or if you're finding yourself frustrated by poorly performing IT support more and more, it could be time to consider an IT outsourcing company.
It may be that you're looking for a company that can manage your daily IT operations and deliver a higher quality of service. Conversely, you might also be looking to outsource IT projects to lessen the workload of your overstretched in-house team and give them more time to focus on the basics.
No matter the scope, reap the benefits of IT outsourcing and witness the improvements in performance and productivity across your business.
Elevate your IT game
One of the most exciting advantages of outsourcing IT is that your business is no longer restricted by the capacity of your in-house department. If you identify a game-changing IT solution or a cutting-edge technological innovation, you'll no longer be bound by the distracting question of whether your IT team has bandwidth to take it on.
With outsourced IT, you can elevate your IT game through continuous innovation, safe in the knowledge that outsourced IT companies have the capacity and experience to enact your IT vision. No project is too large or too complicated. Outsourced IT can implement and maintain the solutions that will take your business to new heights.
Conclusion
There you have it: our top ten benefits of outsourced IT. With the promises of better performance, more bandwidth for new projects, and around-the-clock availability, (not to mention the flexibility and cost-savings on offer), it's easy to see why so many companies opt for an outsourced IT solution.
If you'd like to learn more about what outsourced IT can deliver for your UK company, don't hesitate to get in touch with London-based Proxar IT Consulting today to explore the services we offer.