24/7 IT Support
As a London-based IT Consulting company, we offer 24/7 IT support across the United Kingdom. Our extensive experience in resolving technical issues means that we deliver fast and high-quality resolutions that get your business back up and running in no time.
Emergency out-of-hours IT Support
If you find yourself in an IT crisis and needing immediate professional support, our team is here to help. With unlimited access to telephone and remote support, our ad-hoc 24/7 IT Support can quote you a price for a specific task, or charge by the hour. To learn more, contact Proxar IT today.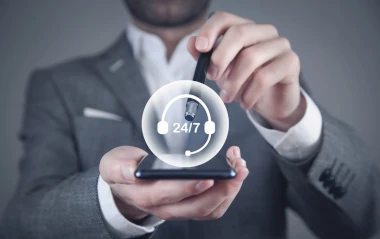 24/7 IT Support Cover
As a UK business, you want to be certain that your IT is supported around the clock. Unfortunately, downtime, failures, and cyberattacks aren't restricted to the usual 9 - 5 working hours: they can strike at any time, any day. 
If you want to ensure your IT hardware and software are working efficiently non-stop, day or night, you may benefit from our 24/7 IT Support Services. If you experience a problem with your tech, our experts are constantly available to resolve the issue quickly and effectively, getting you back up and running in no time.
We combine our round-the-clock availability with our own monitoring platform to alert for issues - sometimes before you're even aware of them yourself. Thanks to this proactive attitude, we can identify and fix issues before they become serious problems.
Network Operation Centre (NOC)
With our Network Operation Centre support, we monitor, manage, supervise, and maintain your network infrastructure, ensuring that it's available every hour of the day, seven days a week. This, combined with our sophisticated monitoring platform, helps us identify and resolve issues before they become apparent, leaving your network running smoother and more securely.
How can we offer IT Support 24/7?
When you sign up to our 24/7 IT Support Services, we establish a secure and direct connection into your infrastructure, while our remote access software means we can be granted access by your users to their workstation. This means that we typically don't require the physical presence of our engineers to be on-site to fix the problem; instead, we can often resolve the issue remotely. If that's not possible, we may require the assistance of an on-site individual to act as our eyes and hands on the ground.
By trying these steps first, we can resolve the majority of issues remotely, which means we can eliminate unnecessary travel and get to work straight away, resulting in faster resolutions for your business. In those instances where a physical presence is required, our team is more than happy to attend with an onsite visit.
Want to know more?
We're here to support you 24 hours a day, 7 days a week. If you'd like to explore more, take a look at our IT Support Service packages.