At Proxar IT we offer a range of services for Microsoft Server technologies, including Windows Server 2008 and 2008 R2 migrations which is end of life:
Hosting
Migrations and upgrades
OS Management
Server Monitoring
Updates and patch management
Security hardening and assessment
Licencing
Windows Server upgrades and migrations
We often help customers upgrade old versions of Windows Server to new platforms. This can be a straightforward upgrade to Windows Server 2019 or something more involved like moving server workloads to Azure or interim upgrades.
We can help with your Windows Server needs with migrations and upgrades for example with the following services:
Windows Server roles and infrastructure – Active Directory, DNS, DHCP, Hyper-V, RRAS etc.
Application servers – Line of business or other custom applications
SQL, Exchange, ADFS or SharePoint Server
File and Print services including FollowMe Printing
Here are a few reasons that regularly drive customers need to upgrade their systems:
Security threats
Compliance or other regulatory requirements
Urgent capacity needs
Poor performance/slowness or reliability issues
Application upgrades
Software compatibility and end of support
Hardware lifecycle, support and expiry
If any of these issues above sound familiar, then please get in touch, Proxar IT can help you with all your Microsoft Infrastructure requirements.
Windows Server end of support: what does it really mean?
While end of support can be seen as a nuisance, especially if these older systems are working fine, this can be an opportunity to transform your IT and deliver more efficient and secure services.
The cost to not upgrade can actually be more, as the upgrade will still need to happen at some point, here are some of the associated risks:
No security updates
Raises compliance and regulatory issues
Additional cost for support and patches
Missed innovation opportunities
Windows Server 2008 free Extended Security Updates
Windows Server 2008 and R2 is still a commonly used platform but with end of support here, what is a business to do when they are simple not ready to migrate to a new version yet?
Proxar IT can migrate server 2008 and R2 services to Azure, which brings three years of free Extended Security Updates (ESU) support. Rehosting these services with no application code changes, gives you more time to plan a future direction and strategy.
If you have existing licences with Software Assurance, you can benefit from significant costs savings with Azure Hybrid Benefit.
5 great things about Windows Server 2019
There is a lot to like about Windows Server 2019, with wide range of new features, flexible deployment options and refinements.
Most secure version of the Microsoft Server OS
Server core, the smaller footprint version is now more practical with improved management
Seamless integration with cloud technologies
Hosts Windows and Linux container workloads
Predicts when servers reach capacity with intelligent system insights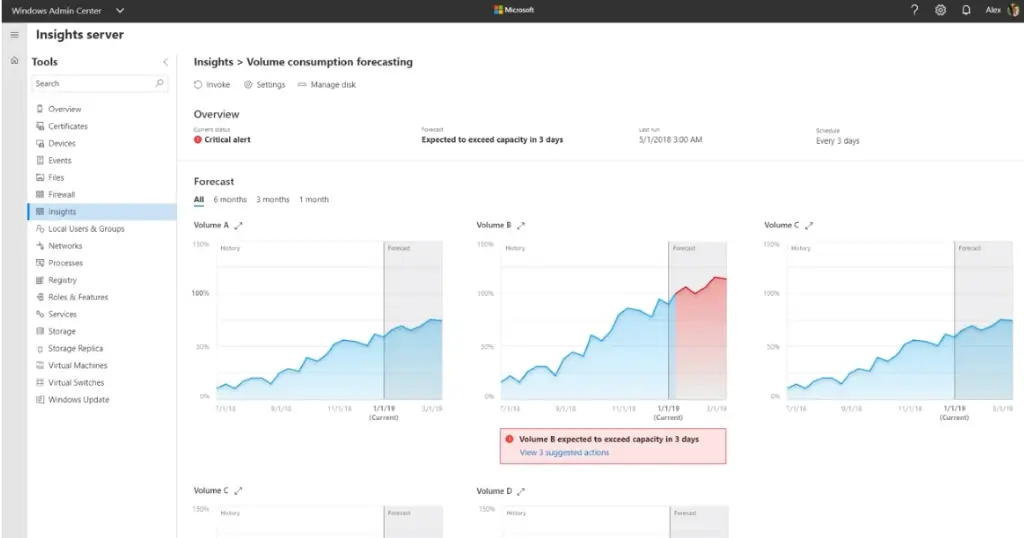 System Insights is the new predictive analytics feature in Windows Server 2019.
Remote Desktop Server and Windows Virtual Desktop
Remote Desktop Servers or Terminal Server upgrades are another common workload we work with, where 2019 version is a great option. Office 365 ProPlus, OneDrive for Business sync and OneDrive Files On-Demand is fully supported with Windows Server 2019, which is a recent change by Microsoft.
Another reason to consider upgrading RDS is that the Office 365 desktop apps will no longer be supported on Windows Server 2012 and R2 effective January 2020, similarly 2008/R2 which will be unsupported at the same time.
A new exciting option that we offer customers is migrating existing RDS servers to Windows Virtual Desktop (WVD). This can be done with Windows Server 2012 R2, 2016, 2019 session hosts.
Here we migrate the session hosts to WVD using Azure Virtual Machines. This brings across all your applications, while Microsoft provide the RDS infrastructure, which they manage. This gives you the flexibility to provide all the applications your staff need, with less dependencies from on-premise systems. This can also be extended with the new Windows 10 multi-session experience.
Migrate Windows Infrastructure to Azure
Hosting Windows Server in Azure provides many benefits, it's with little surprise that Microsoft describe this as the cloud that knows Windows best, including with:
Unmatched security
Built-in hybrid – Over 3 million Server nodes hybrid enabled with Azure
Most cost effective – 5x lower cost for Windows and SQL than other clouds
Migrating Windows Server to Azure can be done in a number of ways depending on the how rapidly the migration is to be completed.
Rehost: Migrate 2008 and 2008 R2 OS workloads to Azure VM
Refactor, Rearchitect or Rebuild: Innovate with Server containers and Azure services
Rehost Refactor and Rebuild
Migrate to Virtual Machines in Azure Innovate with cloud native services
Custom Line of Business Apps
Web App
Azure VMs with Windows Server
Windows Containers with Azure Kubernetes Service (AKS), Azure Service Fabric
Database
Azure SQL Database Managed Instance
Azure Database for MySQL/PostgresSQL Azure CosmosDB
Microsoft Apps
Office Workloads
Office 365-for SharePoint, Exchange and Teams
Remote Desktop Server
Move RDS role to Azure VMs with Windows Server
Windows Virtual Desktop
ISV App
ISV APP
Azure hosted app (Azure Marketplace)
SaaS packaged app (Azure Marketplace)
Server Roles
Active Directory
Deploy Active Directory in Azure VMs with Windows Server
Azure Active Directory and Azure Active Directory Domain Services
DNS
Deploy DNS Servers in Azure VMs with Windows Server
Azure DNS
File Server
Azure Files Service and Azure File Sync with Windows Server Storage Migration Service
At Proxar IT we can assess your current environment, plan, design and implement an upgrade or migration, or introduce a new solution.
Proxar IT can also help minimise your costs with the savings that can be made with Azure Hybrid Benefit and Reserved Instances which can offer sizeable discounts compared to Azure pay-as-you-go pricing.
Microsoft Server and Azure Licencing
There is a lot to consider with Windows Server licencing including:
Core-based processor licensing
Server Client Access Licences (CALs)
RDS CALS
Software Assurance
Downgrade rights
Azure Server Subscriptions, Azure Hybrid Benefit, Reserved Instances
We always get the best pricing when working with customers, we utilize several channels, to get the best value. Proxar IT are a Microsoft Gold Partner and Cloud Solution Provider which means we offer cloud licencing directly to customers including on-premises and Azure:
Azure reservations
Azure Reserved VM Instances
SQL DB Reservations
SQL Managed Instance
Azure Cosmos DB
Azure SQL Data Warehouse
App Services
Azure Databricks unit reservations
Server subscriptions
Microsoft Server Client Access Licenses
Remote Desktop Services (RDS) CALs
SQL Server
Also, we can offer Office licencing including Office 365 and Microsoft 365.
Managing and Monitoring Windows Server
When working with customers we can help them modernise their server environments:
Fully managed infrastructure
Hosting in our data centres
Patch Management
Server monitoring
Virtual Machines, Physical Servers, Hosted, On-Premise or Azure
For more information please contact us