VoIP or Voice over Internet Protocol is a way of taking analogue audio and converting it into data. The data can then be sent over the internet in the form of a phone call.
This conversion enables us to use our existing internet connection to make voice calls. We have seen a growing number of businesses moving away from traditional telephone systems. Companies are now opting for a cloud-based VoIP solution instead.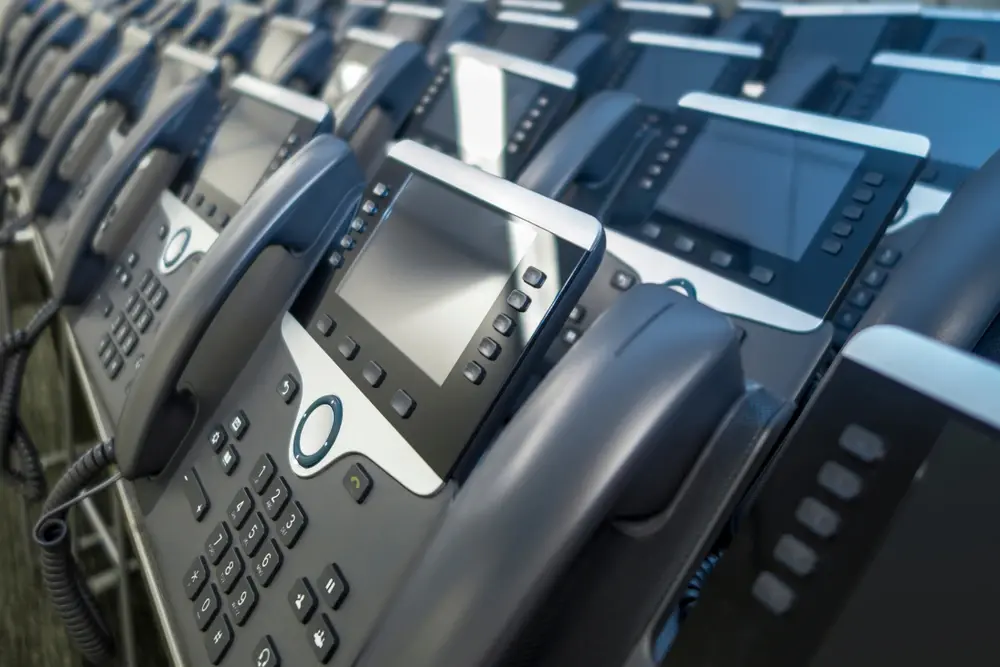 How can I make calls using a VoIP solution?
There are three common ways to make VoIP calls. Many businesses use a combination of the options.
Computer to computer. To make a call from one computer to another, all you will need is the VoIP software, along with a microphone and speakers. The main advantage of this approach to VoIP is that there is rarely a requirement for any further hardware and generally no call charges. This is what is referred to as a "SoftPhone". You can call computer to computer, or from a computer to a desk phone or app.
Analogue telephone adaptor. Use you existing telephone for VoIP by connecting it to your computer or internet connection with an adaptor. The adaptor takes the analogue phone signal and converts it into data. The data then gets sent over your internet connection whenever you make or receive calls.
IP phones. IP Phones are becoming more common place. They look like a normal but modern phone, however these connect directly through your internet connection without the need for an adaptor.
Using a cloud-based VoIP solution means you can make or receive calls as long as you have an internet connection. A number of mobile phone applications use their user's connection to make calls in this way. Many phones now have the built-in 'wifi calling' option. This means that the user can make calls via a wifi connection when their mobile signal is too weak.
What are the advantages of VoIP?
Reduced call costs
Traditional phone systems require a line per call. There will usually be a limit placed on the volume of lines that can be installed and call charges can mount up. Using the internet to place calls removes that issue and reduce costs. Most VoIP providers will also often allow a certain a number of inclusive minutes within your monthly plan.
Conference calling
Cloud-based VoIP solutions can allow conference calling without the need additional hardware and expense that comes with it. VoIP makes both joining and hosting conference calls incredibly simple. When coupled with the ability to use video conferencing this has seen VoIP become crucial to the continued function of businesses across the world throughout the Covid-19 pandemic.


Expansion
Cloud-based VoIP systems make it easy to expand your infrastructure. If your business grows the addition of new extensions a simple task.
VoIP allows you and your business to be completely mobile. You can join or host meetings on the move with ease, all you need is an internet connection. VoIP also makes it easy to move your existing number if you outgrow your existing premises.
VoIP has other added benefits designed with businesses in mind. Call forwarding, call queues, call transfers and call recording to mention a few.
What are the disadvantages of VoIP?
A cloud-based telephony system means it is vital that your business has a high-quality internet connection so it is highly reliable.
Any issues with latency can have an impact on call quality when using VoIP. A lot of businesses do now take advantage of business broadband which greatly reduces the risk of any latency related issues.
Loss of power will impact your ability to make or receive calls using VoIP. Most companies do keep an active phone line as a contingency for such issues. Many businesses do now issue mobile phones to their employees. Meaning in the event of a power outage the team remain contactable. Added contingency here is that many vendors now also provide an app. The app can then be used to make or receive calls during a power outage.
Ring Central
There are a number of providers of cloud-based VoIP solutions with many including softphone apps for desktops and mobiles.
Many articles review the various options and Ring Central is always high on the list. Proxar are proud to be Ring Central partners. With the impressive packages and service received, our clients, both new and old can benefit. Ring Central has a lot to offer and will provide you with peace of mind in knowing you have chosen a great VoIP solution which will be

Ring Central pricing depends upon a handful of variables. Including the plan selected, the number of users, and how you choose to pay. An annual fee for instance, works out cheaper long term than paying on a monthly basis. Ring Central have been developing their offering for almost 20 years. We believe they now have one of the best cloud-based VoIP solutions available as a result.
Cloud-based VoIP is fast becoming common place across offices. That popularity only continues to grow. More and more businesses are discovering the many benefits of VoIP. As a result, switching from a traditional phone system is a common upgrade.
If you want to discuss how VoIP can benefit you and your business, then get in touch with us to discuss your options.
Our team will talk through your requirements and the various options. As a result we will then work out the best solution for you and your business needs.